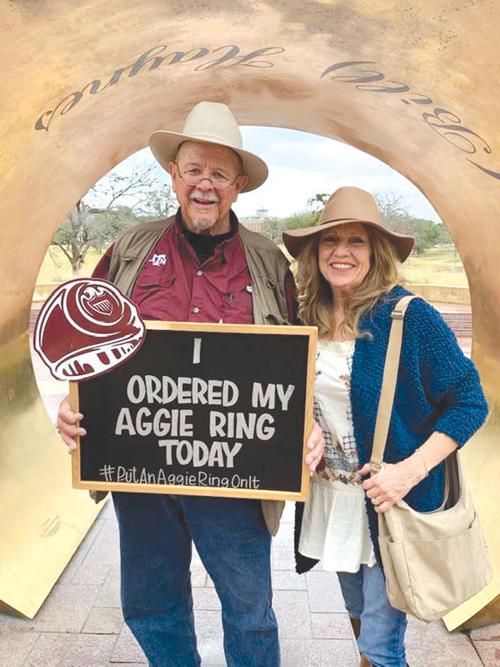 A Texas A&M student who started his education in 1963 is — "at long last" — zeroing in on graduation and has ordered his Aggie ring.
Michael Compton, 74, has a résumé longer than many A&M seniors. A Marine veteran and a retired four-term sheriff, Compton will graduate sometime in 2020, likely in August. He will receive his ring in April.
Compton said that subpar academic performance got him sent home almost exactly 54 years ago. Texas A&M online classes, his life experiences and a strong support network all have led him to the verge of graduation — the fulfillment of a lifelong dream, he said.
Compton lives in Gainesville, which is about 65 miles north of Fort Worth and is just south of the Red River.
Compton's Jan. 10 Facebook post announcing that he'd ordered his ring quickly garnered attention from Aggies in Texas and beyond. It has been shared nearly 600 times and has more than 450 comments.
"I never stopped being a Texas Aggie! Now, after more than 50 years, I am closing in on graduation," Compton wrote on Facebook.
Compton said he started as a freshman at A&M in 1963 in Company B-1 in the Corps of Cadets. "I was a ship without a rudder," he said of his time at A&M in the 1960s.
Compton "hung on," in his words, until 1966, when Texas A&M asked him to leave due to poor academic performance, he said.
"From the day that I turned north on [Texas] 6, my soul ached for Texas A&M," he said Thursday.
He joined the U.S. Marine Corps and began training in summer 1966 and was in Vietnam by September, he said. He spent about two years there. Following discharge from the Marines in 1968, Compton became a police officer. He worked 27 years in highway patrol, he said, then served four four-year terms as sheriff of Cooke County, beginning in January 1997.
As the years went by, Compton continued to support Texas A&M and kept thinking about how he might return as a student.
"The spirit of Aggieland is more than just a song. My heart stayed with Texas A&M," Compton said. "My heart was never satisfied with my performance."
In the spring of 2018, after his time as sheriff concluded, he began taking classes online.
"It took me a long time, but I finally got off of academic probation," Compton said Thursday with a chuckle.
Along with his wife, Lynne, and his children, Compton credited a group of men — Compton's fellow students during his first years at A&M — with pushing him to succeed and complete his degree.
"This group of men has given me the inspiration to want to finish something that I started 50 years ago. They have been the heart of the effort, and my wife has been the soul, because it takes me a lot of studying to get this done," he said.
Mike Carothers was one of Compton's classmates and a fellow member of B-1 in the 1960s. Carothers, a Class of 1967 Aggie who now lives in Hunt, said that a group of their classmates gathers twice a year. At those gatherings, Carothers said, Compton lamented that he didn't have an Aggie ring. With a chuckle, Carothers said that he and other classmates told Compton to "stop whining and just go do it."
"We told him that if he would go back, get his ring and graduate, then we would buy his ring — and we have done that," Carothers said. "We all challenged him, and he took the challenge and has been going at it just nonstop. I mean, he is that kind of guy. He's grinding right now. It's like a bucket list, but it's even bigger than that for him. He lives, eats and breathes Texas A&M.
 "He's a smart guy and always was a smart guy. He just wasn't ready for college at the time. He went out, did his own thing, and was very successful."
Compton, whose degree will be in university studies with an emphasis on parks, recreation and tourism among other emphases, said he studies "every chance that I get."
"I'm gonna walk across that stage, or I'll crawl across it, slither across it — I'm going to get my degree if the Lord sees fit," he said. He is aiming to graduate in August, in part because it would coincide with his mother's birthday.
Asked for his thoughts on online classes, Compton said with a laugh, "I've heard people say that it's harder to do online classes than to be in the classroom. Well, I didn't do very well in the classroom 50-something years ago, but I'm doing pretty good here."
Compton effusively praised the Association of Former Students of Texas A&M for supporting and encouraging him, in his words. Vice President Kathryn Greenwade said Friday that Compton's "perseverance and determination to earn his degree is inspiring."
"Michael's story is one that well illustrates the undying love Aggies have for A&M and the lifelong bonds that Aggies share with one another,"
Greenwade said. "We look forward to celebrating his Aggie Ring Day in April!"
"Youngsters can take away from this that you don't ever have to give up. Don't ever quit dreaming," Compton said.