In the rare moments that Matt Watson finds himself with a few minutes of free time, there's a good chance he'll have his phone out, scrolling through listings on the auction website eBay.
Like a maroon-clad Indiana Jones, Watson hunts for artifacts of Texas A&M football past, hoping to add to his collection of historic Aggie equipment. If he comes across a helmet of years gone by, he'll frequently make the purchase.
When a new helmet from the late '50s to the turn of the century arrives, Watson first spins it upside down to see if he can recognize the familiar handwriting on its inner padding from his mentor and predecessor, Billy Pickard.
A&M has had just two head equipment managers since 1972. The handwriting routine is a reminder of the connection he has with Pickard and with the Aggie football program, and the lineage that traces all the way back to the Paul "Bear" Bryant era.
"I was fortunate enough that he handpicked me to come in and take over for him, and be his successor in this role, as somebody who worked for Coach Bryant back in 1953," Watson said. "That's a really cool six degrees of separation for me to be a part of this job."
Watson was a walk-on in the A&M football equipment room when he came to campus as a freshman in 1992. Pickard, the head equipment manager at the time, didn't have a scholarship position for him in the equipment room, but Watson eventually worked his way to one after volunteering.
A love for football began early for Watson, including playing two years at Corsicana High School. But when he was told he was too small to continue, he stayed in the game working as an equipment manager.
It was not unlike the professional journey of Pickard, who first arrived at A&M as a student in 1952 and worked as a trainer for the football team during Bryant's coaching tenure, including the team's famous trip to Junction. He graduated in 1956, and returned nine years later as the head athletic trainer, and was given responsibility over equipment in 1972.
After graduation, Watson left Aggieland for a year to serve the equipment needs of Troy Aikman, Michael Irvin and Emmitt Smith with the 1996 Dallas Cowboys. He was called back home to A&M a year later, handpicked by Pickard to serve as one of his assistants.
Former A&M head coach R.C. Slocum once told The Eagle that he jokingly called the elder equipment guru "nine-men Pickard," because it would take nine men to replace him for all he did for the program.
When Pickard moved into managing facilities for A&M athletics in 2000, it was Watson that took over the equipment role. Pickard retired in 2009, and died of a stroke in 2015 at age 81.
Watson earned the title upgrade of assistant athletic director for equipment and apparel three years ago.
"One of the best in the business and has been around a long time," A&M head coach Jimbo Fisher said. "Totally knows the game. I like to say, sometimes those guys, they do their job so well, you don't notice anything and that's a good thing. He's always around. Always professional. One of the best in the business in everything he does."
Athletic Director Ross Bjork said he bonds with equipment guys, "just because I think they're the salt of the earth."
"They really hold our program together, in many ways, and Matt is as good as any that I've worked around," he said.
Watson has stood command over the A&M equipment room through the dawn and rise of the sponsorship era of college football. A&M was one of the first programs to sign an apparel and equipment sponsorship with Nike in the '90s, and was a marquee signing for Adidas in 2007.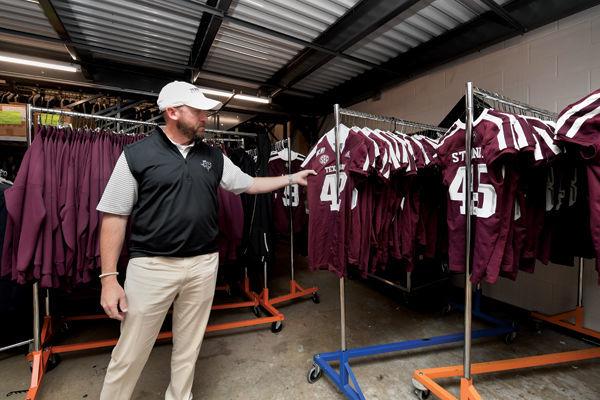 Nike owner Phil Knight's focus on Oregon, his alma mater, resulted in a constant flow of alternate uniforms that changed the game for equipment managers across the country, Watson included.
"Once they started doing it, other people started doing it as well, so that expanded our role on that side of it," Watson said.
Since 2012, A&M has featured seven full alternate uniforms, as well as other additions of flair, like American flag-themed helmet logos. Of those alternate uniforms, three have been a tip of the hat to the past. It is in this work that Watson's passion for A&M history and his years of experience in the equipment room come together.
The proof is in the detail. Take the helmets that were featured as part of the 1939 and 1956 throwback uniforms. Watson had stripes and decorations from actual helmets of the era photographed, and then made into decals for the new helmets.
On the 1956 throwbacks, worn during the 2016 season, Watson had decals made of the vintage Riddell logo, just as it was on the original helmets.
Last season, A&M wore 1998 throwbacks, the year A&M won the Big 12 title. Watson was granted permission from the College Football Playoff to display a vintage Bowl Championship Series sticker on the back of the helmets, as they were on A&M's helmets during the team's appearance in the Sugar Bowl. That's part of the fun for Watson.
"That's where we really dive into the history and the equipment stuff," he said of the throwbacks, "and really getting into archives and access and Cushing Library here at A&M, and getting into yearbooks and pictures that they have online that you can access."
Watson's memories of Aggie football go back to his childhood, staying at the Ramada Inn at the corner of Texas Avenue and University Drive, picking up cheap tickets to watch the Jackie Sherrill-led Aggies play in Kyle Field.
Little did he know, decades later he would have a personal relationship with Sherrill, his childhood hero, and would serve as the equipment manager for five A&M head coaches.
"I've been very fortunate to work at a place that was my alma mater, but also to be in one place for so long," he said. "So I'm blessed in more ways than one."