Cliff Pennington found himself dealing with a different kind of teamwork during fall classes at Texas A&M. The former All-American, who spent 11 years in Major League Baseball, is back in school to finish his degree, and to serve as a student assistant coach with the Aggies.
Group projects with college-aged kids were not his favorite part of this transition, he said with a laugh.
"That was definitely a challenge, because I was trying to get stuff done the week that it was announced, and they were all wanting to get it done the last 48 hours it was due," Pennington said. "With my schedule with the kids and stuff like that, I couldn't wait last minute. I had to get it done. I guess that's part of growing up, and it's OK."
Upon his release from the New York Yankees organization last summer, Pennington decided to trade his position on the diamond for the first-base coach's box. A&M coach Rob Childress had a vacancy, and Pennington was welcomed onto the Aggie staff.
Pennington is getting hands-on experience coaching at the Division I level while also finishing the university studies degree he put on hold by moving on to pro ball after his junior season.
The caveat: His position is unpaid, and he must balance his coaching role with classes and with his duties as husband and father with his wife and three children.
Pennington first came onto A&M's radar as a junior high student at Aggie baseball camps. At the time, he was small but fundamentally sound, former Aggie head coach Mark Johnson recalled. A growth spurt late in high school and his defensive play landed him an offer to continue his career at A&M in 2003. Johnson quickly learned that Pennington was a sponge for fundamentals and couldn't get enough of the defensive drills.
"He was just a passionate baseball man who loved to play and loved to get dirty," Johnson said. "He was fearless, even as a freshman and a sophomore. It didn't matter who it was, he wasn't afraid to play and he wanted the ball hit to him."
The coach took a chance on Pennington for his defense, but his offense soon became a strength as well. By the time Pennington was drafted after his junior season, he made A&M's top 10 list for hits (246), triples (10) and stolen bases (53), while hitting a career .346.
"We weren't sure if the bat was going to work, but we knew defensively," Johnson said. "I'll take the guys up the middle defensively, even if they don't have a bat, but his bat turned out to be important to us."
Having demonstrated that his skillset could translate to the next level, Pennington was selected 21st overall in the 2005 MLB Draft by the Oakland Athletics. By 2008, he was in the majors, beginning an 11-year career at the highest level that included time with the Arizona Diamondbacks, Toronto Blue Jays, Los Angeles Angels and the Cincinnati Reds.
Through all of those stops, Pennington said he found the most joy helping his teammates with intricacies of the game. While with the Diamondbacks, Pennington met one of his mentors in hitting coach Turner Ward. The longtime major league coach quickly noticed Pennington had a knack for identifying ways that pitchers tip their pitches, and would help his colleagues see the game through the same lens.
"There's some guys that you know that are going to have an ability to be a good coach because of the way they share information and what they see, and they want to share it," Ward said.
Pennington was traded from the Diamondbacks to the Blue Jays, but Ward said he left a lasting mark on everyone in that organization, including such players as Paul Goldschmidt, A.J. Pollock and David Peralta.
"It was such a great moment to be able to edify Cliff while he was gone and to tell those guys, 'The example of the standard of who to be and what to be as a teammate and a player and a dad — this guy set the bar high. If any of you guys are wondering what a teammate should look like and what you should desire to be like, he set the standard high,'" Ward said.
Pennington finished his major league career with a .242 batting average, 120 doubles and 36 home runs.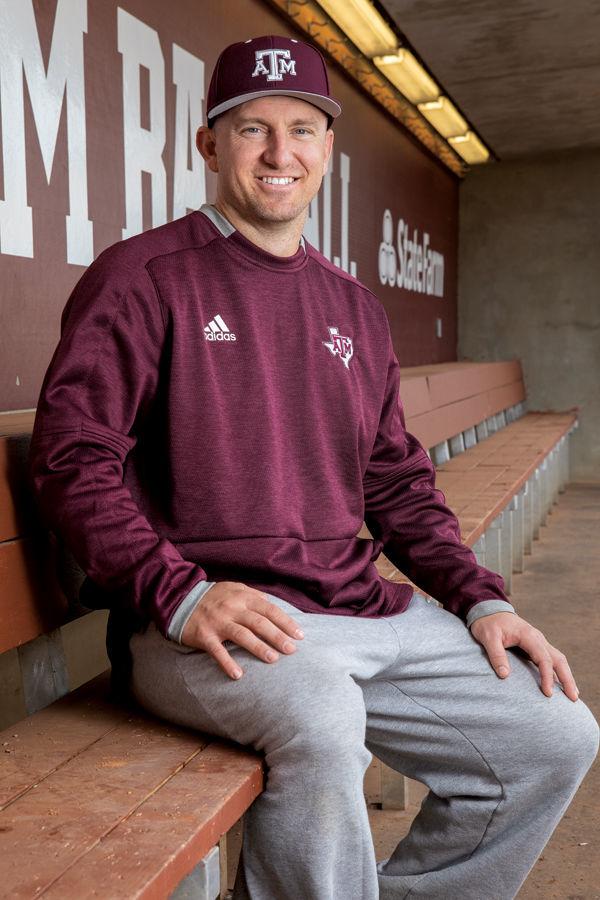 Over the last three years of his career, Pennington shared his interest in becoming a college coach with Johnson and then with Childress. This season, the A&M program had room to add him as a student assistant.
Unlike the other Aggie coaches, Pennington does not have an office. In the lobby of the coaches' wing of Blue Bell Park, he works on his school assignments and coaching responsibilities on a public computer.
The biggest learning curve has been understanding the world of recruiting, he said, and creating contacts for potential Aggie targets. Pennington has also found that the amount of information available to players compares to what he received while playing in the majors.
"I'm just getting used to the style of game and having to be a little bit of a father-like coach versus pro ball, where it's grown men, and it's their profession and they are more of a peer," he said.
Using his gift of reading pitchers, Pennington has been invaluable coaching A&M's base running, Childress said, which has landed him the responsibility of manning the first-base coaching box for the Aggies. It hasn't taken long for the players to see his wisdom.
"That guy has the highest baseball IQ that I've ever seen in my life," second baseman Bryce Blaum said. "Just being able to spend six months with him, I've learned so much more about the game than I've ever even thought of. He literally tells you when the pitcher is picking off. He's that smart and that good at what he does."
Pennington has two classes to complete this semester to earn his degree. After the baseball season, his coaching future will be up in the air, but he said he hopes to gain as much experience as he can.
But for those who coached him through his career, there isn't much doubt that he will make the same kind of mark in coaching as he did on the field.
"I can honestly say a player like Cliff makes coaches better," Ward said. "As much as Cliff comments about me being a mentor, he was a good influence on myself and the coaches around me."
Be the first to know
Get local news delivered to your inbox!