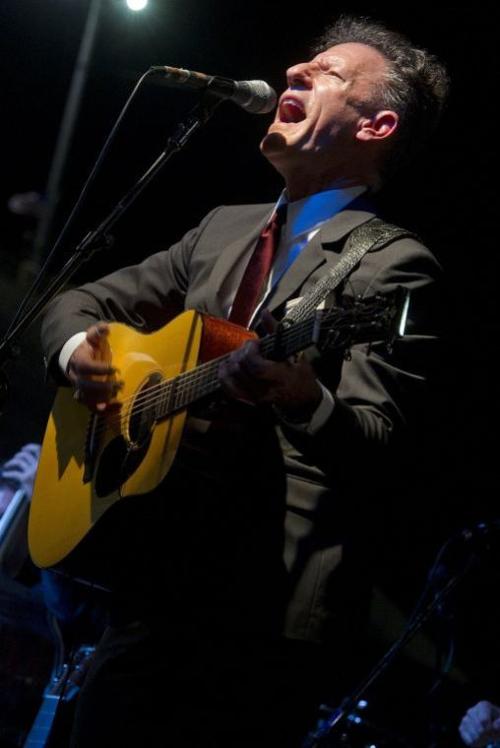 First Yell 2013 at Kyle Field took a big step forward on Friday night. The concert event — presented by the Association of Former Yell Leaders — brought Texas A&M grads and longtime pals Lyle Lovett and Robert Earl Keen, along with 12-time Grammy winner Emmylou Harris and Rodney Crowell.
A big improvement from last year's Kyle Field show was the stage arrangement. It was moved into the end zone, much closer to the audience than the far-right-track arrangement of 2012.
The crowd, estimated at 8,500 by show producer Katie Youngkin, got to see what might be the best talent lineup this area has seen since Reed Arena's flourish of high-profile shows in the late '90s.
Harris and Crowell — best opening act ever? — started things off nicely. Harris, decked out in a silvery-white outfit and boots that matched her trademark 'do, scored with her cover of Pancho and Lefty. It was one of many tributes to beloved singer-songwriter Townes Van Zandt in the show. Just as strong was Crowell's galloping rendition of his song Earthbound.
Here's where the record skipped. It has nothing to do with the performers, the stage or the setup. It's the crowd. The chatter nearly overwhelmed the sound of the artists. There was a constant flow of late arrivals, and a nonstop chorus of murmurs floated down from the concourse. Maybe that's inevitable in the stadium, but it's really distracting.
The noise in the seats was worse. It's hard to hear Emmylou hit the high notes (like few can, by the way) when people are blah-blah-blahing all around you.
Granted, this observation is anecdotal at best. There were plenty of people who were into the music. But from this vantage point, those folks were outnumbered by the ones who were blabbing as if they were at a bar. There's a place for that. It's called Northgate.
Getting back to the important stuff, Harris earned some chuckles by discussing her 40-year friendship with Crowell, saying they bonded over "sad, dark, depressing songs, and we built our friendship on it." Then they launched into Love Hurts (think the Everly Brothers' version, not Nazareth's).
Another gorgeous cover: If I Needed You (Van Zandt classic No. 2). Harris had a hit with it in 1981 with Don Williams, and Crowell filled that role nicely.
They closed with the title track from their Old Yellow Moon album, and Harris offered a "Good luck tomorrow" wish to the Aggies for the big Alabama game.
Lovett and Keen had both bands on the stage — 15 players in all. Lovett's crew played a swing tune to start the set that cleverly incorporated the start of the Aggie War Hymn. Then Lovett stepped up for his first song, and introduced it in pinpoint yell leader style: "Got a little story for ya, Ags."
What came next was unexpected, and a little bold — Lovett's quirky song Here I Am, which has rambling spoken-word verses that are borderline nonsensical, but funny.
The format was generally two-songs-then-switch. So Keen got rolling with  one of his best tracks, the mellow Feelin' Good Again, which went right into the warm vibes of Gringo Honeymoon.
Lovett's adventurous song selection continued with his slow-building, gospel-powered I Will Rise Up, and backup singer Arnold McCuller was a wonder. His soul-soaked vocals seemed effortless, and backed up Lovett perfectly.
From Keen's team, Rich Brotherton is an ace guitarist, from the meticulous picking in I Gotta Go to the classic The Road Goes on Forever, which brought the crowd to its feet. Lovett's That's Right (You're Not From Texas) had the same effect.
Whenever Lovett and Keen get together, there are lots of little moments to remember. It might be a sly grin from Lovett while Keen is singing. Or Keen exclaiming, "That was awesome!" after Lovett played My Baby Don't Tolerate.
To close out the set, Keen and Lovett played White Freight Liner Blues (No. 3 by Van Zandt), but quickly returned for one more. And thank goodness, because the evening would have seemed empty without The Front Porch Song.
Keen reminisced about that legendary spot where he and Lovett met as A&M students. Their subdued and introspective rendition of the song was the only way the show could end.
By that point, large chunks of the students in the crowd had rushed over to get prime seats for Midnight Yell Practice. No harm in that, considering the massive hype of the A&M-Alabama game. The rest of us sat back and enjoyed the rest of the music.