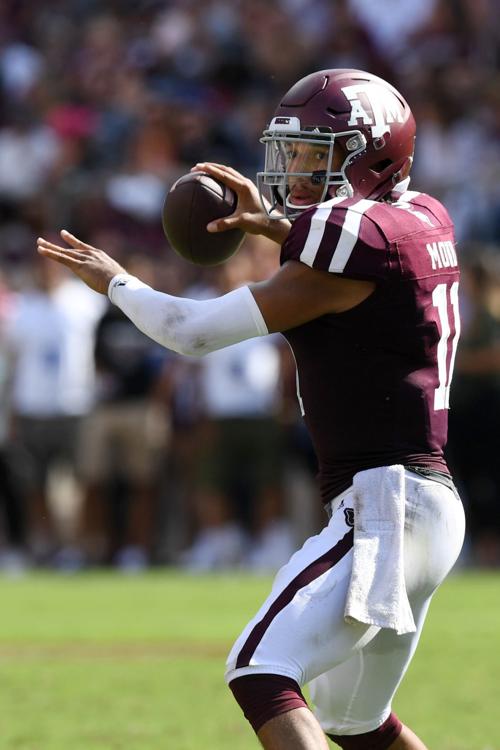 I wasn't surprised that Texas A&M remained in the rankings.
If Auburn, the nation's seventh-best team, could beat A&M by only a touchdown, well then A&M has to be a Top 25 team. After all, the Aggies also stayed within two touchdowns of top-ranked Clemson in Death Valley.
Maybe A&M is the nation's 21st-best team (by the coaches) or 23rd-best team (by Associated Press), but it really haven't proven it. A&M is better than Texas State and Lamar, but there's about 100 FBS teams and a few FCS teams that could beat Texas State and Lamar.
I couldn't put A&M in my Top 25 in good faith after watching that performance Saturday. The Aggies played for one quarter. A&M never had a chance to win. I picked A&M to win that game, but the Aggies took a step backward, losing a pivotal SEC West game.  Auburn was the better team and I think it will keep getting better as its true freshman quarterback gets experience.
Auburn has wins over Oregon and A&M. I still have my doubts if the Tigers are a Top 10 team, but they are better than A&M.
The Aggies will get a chance to prove they are a Top 25 team in three weeks against second-ranked Alabama. A close loss probably will not keep a 3-3 Aggie team in the poll – yes, I'm assuming it beats Arkansas – but a victory could put it in the Top 15.
A&M will have to play a lot better than it did Saturday to beat Alabama. Many think a change of quarterback would improve the offense, but I'm not so sure. A&M's offensive line couldn't open up running lanes and Mond and his receivers struggled for three quarters. I don't know if it was play-calling, a lack of execution, the line not doing its part against that great Auburn D-line or a combination of all that, but it was ugly.
I haven't been impressed with the O-line, losing running back Jashaun Corbin was a big blow and the receivers are talented, but other than the Clemson and LSU games last season, haven't they been pretty much average?
Offense is head coach Jimbo Fisher's forte, so I expect something will change, if not personnel, then approach. A&M had three points at Clemson after three quarters and again had three points Saturday after three quarters.
That's not what Top 25 teams do.
I was one of 29 AP voters not including A&M. But Andy Greder of the St. Paul Pioneer Press has A&M 12th and 19 others had A&M in the Top 20. Who knows, maybe they'll prove to be right.
MY AP TOP 25 BALLOT
1 Clemson
2 Alabama
3 Oklahoma
4 Georgia          
5 Ohio State
6. LSU
7. Wisconsin
8. Auburn
9. Florida
10. Notre Dame
11. Texas
12. Oregon
13. Penn State
14. Boise State
15. Washington
16. Iowa
17. Utah
18. UCF
19. Michigan
20. Virginia
21. California
22 Michigan State
23. Army
24. Kansas State
25. Southern Cal
CLOSE
26. Wake Forest
27. Memphis
28, Texas A&M
29, Oklahoma State
30, SMU