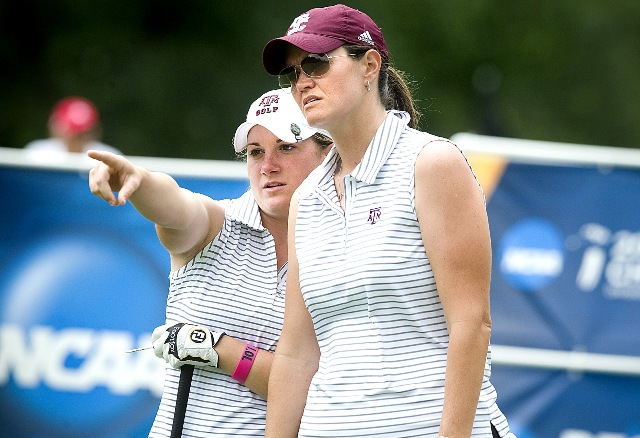 Trelle McCombs had some big shoes to fill.
The former Tulsa women's golf coach took over Texas A&M's program in 2007 when Jeanne Sutherland, retired after 15 seasons. The Aggies had won back-to-back Big 12 championships.
"I knew that it was an up-and-coming program," McCombs said. "They had just come off of two Big 12 wins and they were really looking to keep the momentum with the program."
Former athletic director Bill Byrne described the hiring as "the ideal choice." Sutherland chimed in, saying McCombs was "the perfect person to take Texas A&M to a national championship."
Her first two years in Aggieland resulted in second place finishes at the Big 12 Championships. McCombs mentions two players that helped get her through the initial uncertainty that comes with a new coach.
"Ashley Freeman and Lauren Johnson were both huge," McCombs said. "Those two really stayed by me in the transition and bought in to what I was trying to do. It was hard for them because [Sutherland] was the one who recruited them. But they did a great job of buying into what I wanted to do and my vision for the program."
The Aggies won the 2010 Big 12 Championship and finished 11th at the NCAA Championships. In 2012, the Aggies finished at No. 16.
In 2013, A&M's first golf season in the Southeastern Conference, the Aggies qualified for NCAA regionals for the 13th consecutive season. A&M twice finished tournaments in the top five, and finished 11th at the SEC Championships.
The Aggies' three-year run of qualifying for the NCAA Championship came to an end after the team dug itself a hole in the first two rounds and finished 11th in the regional at Stanford.
"We played very hard [on the final day] and competed," McCombs said in a release. "Had we came out and played like we did [on the final day] the first two days, we would not be in this situation. All we can do is learn from this and get better for next season."
McCombs is just A&M's third coach since the program began in 1974, which she finds comforting.
"I think it says a lot about the stability of the program," she said. "It's obviously a good place and one that they try to take care of their coaches, to keep the stability for the players."
As she continues to strive to get A&M at the top of national leader boards, McCombs has set goals for the program.
"That would be one of my goals — to be competitive and make a mark," McCombs said. "As all coaches do, we all want to win a national championship. We've got to recruit the players to do all of that and recruit the players that want to win and fit our system."