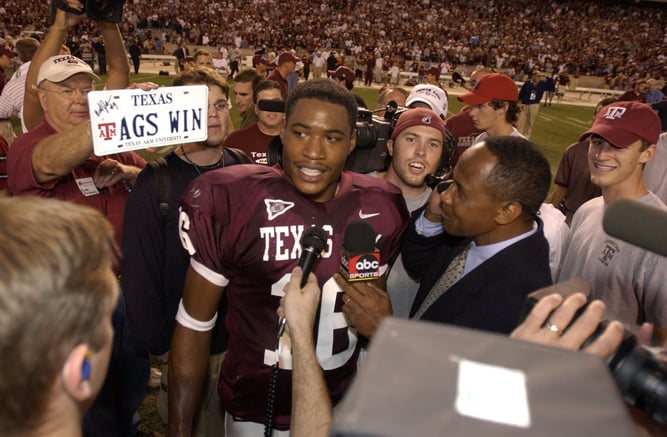 The Bright Complex — a state-of-the-art football facility — was under construction, and highly touted recruit Reggie McNeal was on campus after leading Lufkin to a state championship. Mark Farris began the year as the starting quarterback but was pulled in the second game in favor of Dustin Long. The offense struggled, totaling 156 yards in a 13-3 loss to Virginia Tech at Kyle Field. McNeal's anticipated debut was a dud as he came off the bench to go 1-for-6 through the air with an interception.
Long and Texas Tech quarterback Kliff Kingsbury dueled in a memorable shootout at Kyle Field, but Tech won 48-47. The Aggies stumbled into its home matchup with top-ranked Oklahoma at 5-4. After Long struggled, McNeal stepped in and led A&M's first upset of a No. 1 team at home, beating the Sooners 30-26.
The momentum was short-lived as McNeal got hurt, and A&M lost its final two games to Missouri and Texas. Prior to the Texas game, freshman Brandon Fails died of a blood clot that formed in his leg.
At 6-6, A&M declined a bowl invitation and fired coaching legend R.C. Slocum. He ended his 14-year career as the winningest coach in program history. He went 123-47-2, never had a losing season and won four conference championships. "We had a season where we lost several close games that could have gone either way and no one was more disappointed than me with our record," Slocum said. "However, we have some really outstanding young players and I felt our future was bright."