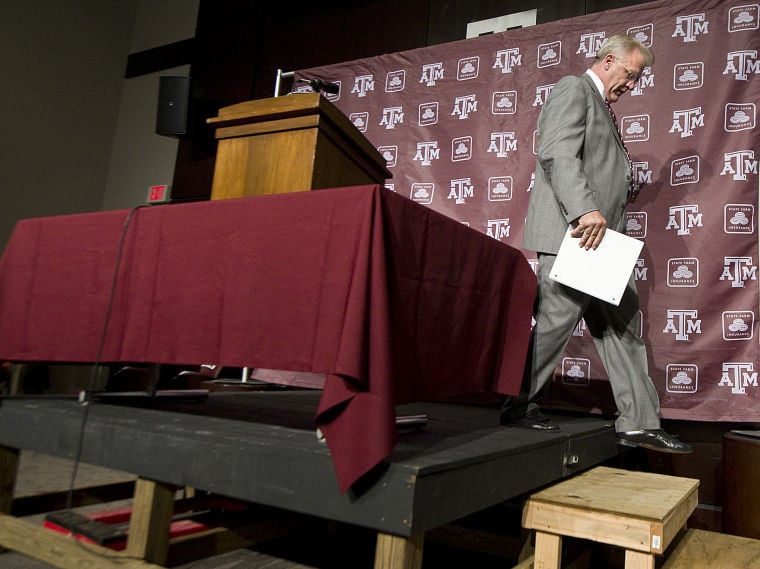 After the success of 2010, the Aggies were a preseason top 10 squad with 18 returning starters.
But heightened expectations led to heartbreak. In five of the team's six losses, the Aggies held double-digit leads in the second half, eventually losing by a combined 17 points to Oklahoma State, Arkansas, Missouri, Kansas State and Texas.
Meanwhile, A&M made waves by electing to leave the Big 12 and join the Southeastern Conference in 2012. So the annual game against Texas took on even more meaning, as it would be the last matchup for the foreseeable future. The Longhorns took those long-term bragging rights with a game-winning field goal, silencing Kyle Field.
It ended up being the final nail in the coffin for coach Mike Sherman, who was terminated after the bitterly disappointing 6-6 season. His four-year tenure ended with a perfectly mediocre mark of 25-25.
"It's very important that when people make decisions, they make them based on facts and analysis and insight," Sherman said in his exit press conference. "What's real, not what's false. Sometimes that gets skewed up a little bit. I hope the next coach appreciates the opportunity that he's going to get with this group of young men. And I'll help him in any way I can, because I want to see A&M be successful."
A&M hired Houston coach Kevin Sumlin — a onetime A&M assistant under R.C. Slocum — to lead the team into the premier college football conference. In April 2012, Ryan Tannehill became A&M's highest-drafted quarterback in the NFL. He was picked at No. 8 in the first round by Miami, and the Dolphins' new offensive coordinator, Mike Sherman.