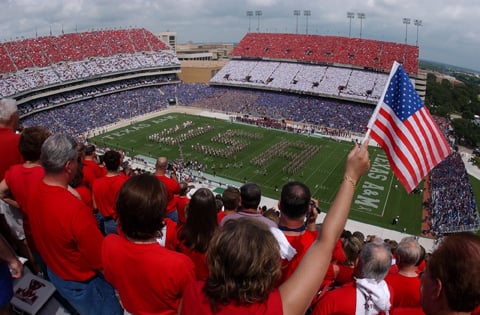 A&M got off to a 7-1 start behind inspired play from a defense led by cornerbacks Jay Brooks and Sammy Davis.
After the Sept. 11 terrorist attacks, Aggies honored those who were killed by wearing red, white and blue in a remarkable coordinated display. A&M defeated Oklahoma State that day.
The No. 17 Aggies' struggles in Lubbock continued, and the Red Raiders shut out A&M 12-0. It would be the last time the Aggies would be ranked under Slocum. A&M lost its last two to top-five foes Oklahoma and Texas to end the year 7-4. The Aggies mustered only 165 total yards in the 21-7 loss to Texas. Farris threw eight touchdowns during the season.
The team bested TCU 28-9 in the GalleryFurniture.com Bowl behind three interceptions from Byron Jones. It was the team's first bowl win since 1995 and only Slocum's second bowl win in nine tries.