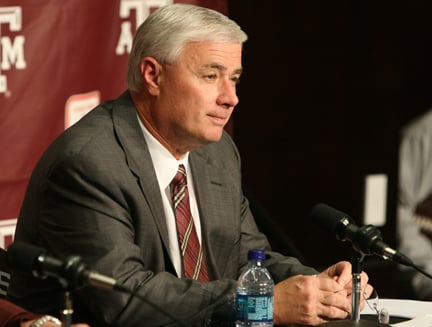 A&M entered the year with a veteran lineup and win-now expectations. However, the team started by squeaking past an average Fresno State team in a triple-overtime win. Two weeks later, in front of a primetime ESPN audience, Miami whupped the Aggies, 34-17.
Then came the revelation that Franchione was selling a "secret" newsletter called "The VIP Connection" to boosters for $1,200, which included insider information. Athletic director Bill Byrne said in October, "The Aggies are embarrassed right now."
At 6-2, A&M began the toughest part of their schedule. A&M lost to top-10 teams Kansas, Oklahoma and Missouri. The team finished the season with a 38-30 win over Texas as running back Mike Goodson caught two touchdowns from quarterback Stephen McGee.
Franchione announced his resignation in the postgame press conference. Mike Sherman was chosen to succeed Franchione. The former head coach of the Green Bay Packers had previously coached at A&M under R.C. Slocum. A&M again lost its postseason game, to Penn State in the Alamo Bowl, 24-17.