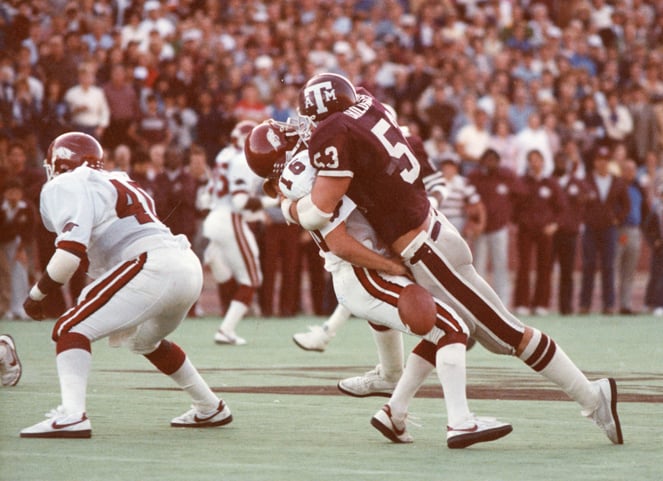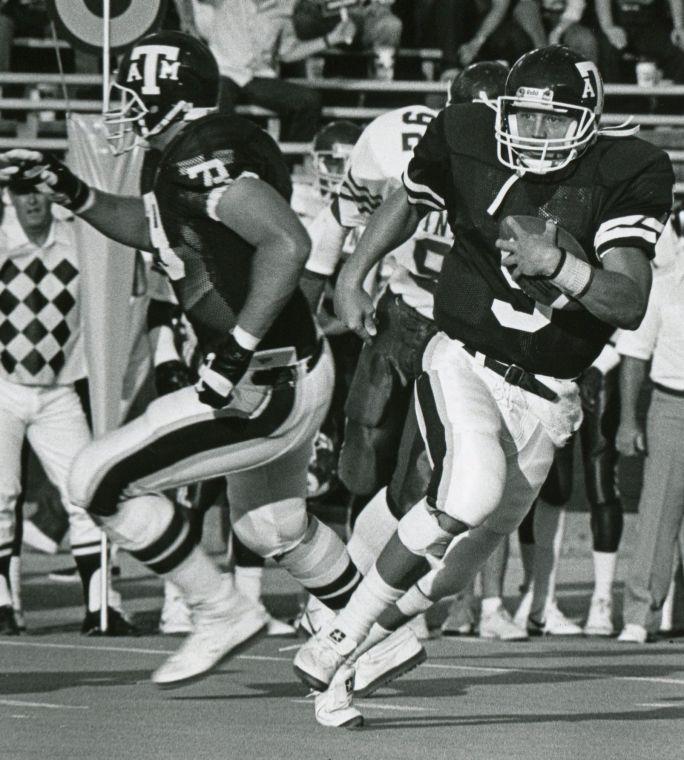 With Kevin Murray at quarterback for his sophomore season, big things were expected. But against UTEP — a team that had won only 16 of its last 126 games — A&M barely won 20-17. Craig Stump took over a week later in a blowout win over Iowa State. And when Murray broke his ankle in a near loss to Arkansas State, it became Stump's team.
In the next three contests — all SWC matchups — the Aggie offense put up a combined 35 points, and lost all three. A&M went 1-2 in its next three games and went into a late season game against No. 17 TCU at 4-5 on the season and 1-5 in conference play.
But defensive lineman Ray Childress had 14 tackles and a forced fumble as Sherrill got his first win over a ranked team in beating the Horned Frogs, 35-21.
In the season finale, A&M traveled to Austin to face the Longhorns, who were playing for the conference title. A&M jumped on Texas early and put it out of reach when Domingo Bryant blocked a field goal. Scott Polk picked up the ball and returned it 76 yards to the Texas 7-yard line. A&M went on to get a 37-12 victory, the team's first win over Texas under Sherrill after two lopsided losses. The Aggies would only lose to Texas once in the decade.
Sherrill was emotional afterward. "This was one of the biggest wins I've ever been associated with," he said, "and probably ever will be associated with." A&M finished 6-5 on the season.