Fifty years ago this month, the Man in Black was a wanted man — by the state police and Texas A&M students.
Johnny Cash was in the prime of his career in 1965, a major country star with the baritone boom of a voice and a long list of hits, including I Walk the Line, There You Go, Big River and Folsom Prison Blues. So he was a natural choice to perform at Town Hall's post-Bonfire concert at G. Rollie White Coliseum on Nov. 24.
That plan took a strange detour after the events of Oct. 4, when Cash was arrested in El Paso for illegal possession of prescription drugs. What followed was a campus controversy between students and A&M officials, including Memorial Student Center Director J. Wayne Stark and President James Earl Rudder. The concert was eventually canceled. But a grass-roots effort by a small group of students was enough to bring Cash to town anyway — just not on campus.
"He was a troubled dude," says Scott DeLucia, longtime radio personality on WTAW. "I think we found out from the movies and the biographies that he was troubled. So from that standpoint, it was probably right for A&M to not have him on campus. But this was the perfect 'kiss my butt' moment that he could do to Texas A&M, and so he did. And obviously, he was never invited back and didn't come back."
'A demon called Deception'
Cash first dabbled with drugs in 1957, in what he called "a definite step in a wrong direction" in his 1975 autobiography, Man in Black. It started with amphetamines — Dexedrine, Benzedrine and Dexamyl — which he said helped his onstage stamina and confidence. They were cheap, but came with "a demon called Deception," he said.
"They left me exhausted, but I had discovered something I sincerely thought would be a good thing for me," he wrote.
Around 1960, Cash wrote, he had to have the pills. Acquiring them was relatively easy. He'd call a random doctor, explain he was facing long hours of nighttime driving on tour and that he needed "some of those diet pills to keep me awake."
Cash's friends noticed his increased nervousness and twitching, he wrote. Depression set in. Cash wrote that he "was burdened down with guilt and prayed for strength to fight the habits that were taking control." His use expanded to barbiturates, and he mixed his pills with alcohol.
In 1965, Cash had a disastrous performance at the Grand Ole Opry in Nashville, dragging a microphone stand across the Ryman Auditorium stage, "popping 50 or 60 footlights," he wrote. He drove away in the Nashville rain, wrecked his car and ended up in the emergency room.
Cash wrote that he was "taking more pills than I could find doctors to supply." The El Paso incident began when he crossed the border into Mexico, hiring a cab driver to get pills in Juarez.
"I felt like the outlaw I had become," he wrote, "sitting in a taxicab on a hot, dirty back street behind a bar in Mexico waiting impatiently for the pusher to fill my order."
He scored a huge supply — 668 tablets of Dexedrine and 475 Equanil, according to a 1965 Eagle story — and returned to El Paso.
As Cash describes in Man in Black, he took a few pills, then explored the downtown area. He stopped in at a pawn shop and bought an antique pistol. A man Cash suspected to be a police officer greeted him outside the shop and complimented the gun, then asked about his stay in town.
Later that night, that same man pulled Cash off of a plane that was about to take flight to Los Angeles. Cash had pills in his pocket, he wrote, and the authorities went through his gear, pulling a sock full of pills from the lining in his suitcase. Cash pulled another pill-packed sock from inside his guitar.
The supplier in Mexico was a heroin dealer, the officers said, which is why they had been trailing Cash. He had no heroin, but because he acquired the drugs illegally, they took him to the El Paso jail.
"I don't ever want out of this cell again," Cash recalled thinking in Man in Black. "I just want to stay here alone and pray that God will forgive me and then let me die. Because I'm too weak to face everyone I'll have to face. Knowing my family is heartbroken, knowing my friends and fans are hurt and disappointed — it's more than I can reconcile with them."
Cash wrote that he stayed sober for six weeks as he dealt with the fallout. His A&M concert, which is not mentioned in the book, was 51 days after the arrest.
"But as humbling and defacing as it all was, the memory of embarrassment faded into the heightening schedule of demanding tours," he wrote. "And I returned once again to my shadows of death — the pills."
Aggieland reacts
The Cash controversy happened in the midst of A&M's major transformation period in the '60s, which was led by Rudder, a retired major general in the Army Reserve and a World War II hero. Black students were admitted in 1963, as were women (on a limited basis until 1969). And by 1965, students were no longer required to be in the Corps of Cadets.
Glenn Dromgoole, editor of the student newspaper The Battalion in the fall of '65, credits Rudder for doing "a tremendous job" as president. But, he said that Rudder ran the campus as a military institution. The Cash situation gave a segment of the student body the urge to speak out, he says.
"I think there was a sense among some students — and it would've been a minority, I feel sure — that this was maybe a chance to stand up to the administration," says Dromgoole, who writes the Texas Reads column for The Eagle. "That maybe things were changing a little bit."
On Nov. 9, 1965, The Battalion reported that the Memorial Student Center Council decided to keep the concert as scheduled. Town Hall Chairman Mike Nabors had requested a review in light of the El Paso arrest. Joe Buser, a former student representative on the council, argued for the show to be halted until Cash was cleared of any charges.
"Speaking from the former students point of view, I do not believe that this entertainer would be appropriate," Buser said, according to the paper. "I think that taking 1,000 pep pills was for more than just to get a buzz. This could be considered traffic."
His motion was not seconded, The Eagle reported.
Four days later, the university canceled the concert. The Battalion ran a full story at the top of the front page in its next issue, with a double-decker headline, pushing its masthead almost halfway down the page, along with an "X" crossing out a Cash info box.
Stark said via telegram in the story that the decision was "due to unfavorable publicity originating from El Paso." Dean of Students James Hannigan described a "cloud hanging over" Cash. "We try to provide a clean, Christian atmosphere for our students," he said.
Cash's manager Saul Holiff told the student paper that legal action was likely, and that Cash had already reduced his performance fee for the concert since his wife was from Texas.
Nabors called the decision "an unfortunate situation."
"If we judged all our acts before they came, we would have very few Town Hall performances," he said.
The decision wasn't a popular one with some in the student body, including The Battalion staff.
"We kind of took a different position editorially," Dromgoole recalls, "that he was innocent until proven guilty, and felt like they shouldn't cancel the concert. But they did."
The newspaper called the administration's actions "a step it might long regret" in an editorial: "It is a flower in the administration's lapel that they hold the image of this university in such high esteem and are willing to risk even legal action to protect it. Certainly, Texas A&M did not intend to prejudge nor to deprive a citizen of his inalienable rights, but the move could easily be interpreted as such a violation. The question of jurisprudence should not enter the debate, officials argue, but how can it be omitted?"
Looking back, Dromgoole says, "Maybe we were just on our 'high horses,' being young and idealistic. The administration certainly was within its rights to cancel the performance, although by doing so they created a lot more controversy than if they had just quietly allowed him to perform."
But Batt readers were similarly critical, and some focused on Hannigan's "Christian atmosphere" reference. Here's a sample of letters to the editor on Nov. 18, under the headline "Town Hall Blackball Draws Blasts":
• "As a longtime fan of Johnny Cash I was highly disappointed to see his show canceled, to say the least. I regret that the University students and the residents of the Bryan-College Station area have been deprived of hearing one of the greatest country and western singers of all times."
• "If the University tries to create a Christian atmosphere for students, which entertainers do they have in mind? I have attended four Johnny Cash shows in the past, and Cash has presented at least one religious song at each performance. How many Town Hall performers in the past have devoted any time at all to religious thoughts?"
• "The administration is also setting an alarming precedent in its quest to provide the proper atmosphere. Is the door now open for the administration to censure the Aggie Players, campus movies, midnight yell practice or TV viewed on campus? It is my opinion that the only clean, Christian, Hebrew, Moslem or Hindu thing to do is to renew Mr. Cash's contract."
Rudder discussed the cancellation with the MSC Council, which was covered in the Nov. 23 issue of The Battalion. Rudder apologized to the council for the late nature of the cancellation, saying that he "just began to think about it and maybe I was just slow in making up my mind."
"The ultimate authority in university affairs rests with the Board of Directors but the Cash decision was mine and mine alone," Rudder said. "However I have contacted a few of the board members and they completely agreed with the decisions. I did not try to prejudge Johnny Cash because only a court of law can do this, but nobody can dispute that he has been caught with pep pills."
The Committee for Johnny Cash
As the fallout from the concert cancellation continued, a small group of students, graduate students and recent graduates formed The Committee for Johnny Cash. (The Battalion reported the committee had six members, The Eagle said eight.)
Dromgoole recalls the committee as "mostly graduate students in liberal arts."
"The few liberals on campus," Dromgoole says with a laugh. "There weren't very many back then."
The committee — not officially tied to or recognized by the university — circulated a petition, which reportedly had more than 2,000 signatures. The petition's text, as reported by The Eagle:
"We feel that the administration's action in canceling Mr. Cash's performance was (1) an unfair prejudgment of Johnny Cash; (2) an infringement on the authority of the Memorial Student Center Council and (3) poorly timed."
Committee member John Corns told The Battalion in its Nov. 18 issue that the group had been in communication with Holiff, and hoped the administration would reverse its decision.
"We also have reports of some definite interest in an independently sponsored presentation of Mr. Cash on the night he was originally scheduled to appear," Corns said.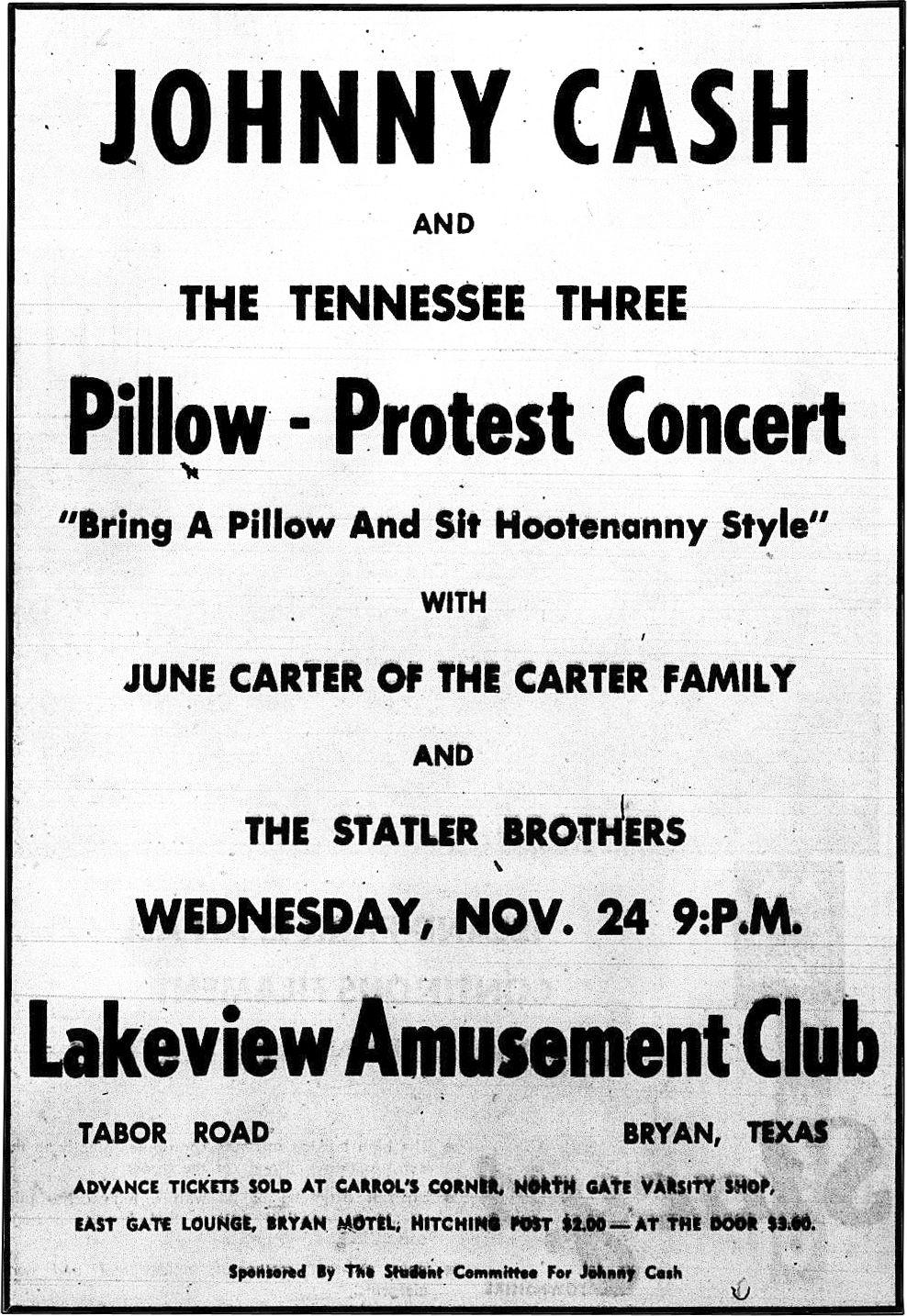 The committee moved quickly toward that goal. On Nov. 19, both newspapers reported the committee had struck a deal with Holiff. Cash would perform at the Lakeview Amusement Club on Tabor Road in Bryan on the same night as the original concert.
"I am pleased at their interest in righting a wrong," Holiff told The Eagle.
On Nov. 21, an advertisement appeared in The Eagle — Section 2, Page 7 — promoting the concert featuring Cash and the Tennessee Three, with June Carter (whom Cash would later marry) of The Carter Family and opening act The Statler Brothers. The event was dubbed a "Pillow-Protest Concert," and fans were encouraged to "bring a pillow and sit hootenanny style." The cost: $2 in advance, $3 at the door.
The students had managed to arrange what the administration had denied. The effort required in pulling off such an event is "beyond impressive," according to Dave Salmon, associate director of the MSC and adviser of Town Hall, who has been with the university since 1989.
"To be able to actually galvanize, with such a small group of students, to actually make that size of a show happen — holy moly," he says. "Back in '65, Johnny Cash — that's a big, big name."
'Hello, I'm Johnny Cash'
The Lakeview Amusement Club was the site of dances and Saturday night concerts, and was part of the country music circuit, DeLucia says. Performers would come through the area just as they would in Navasota and Caldwell.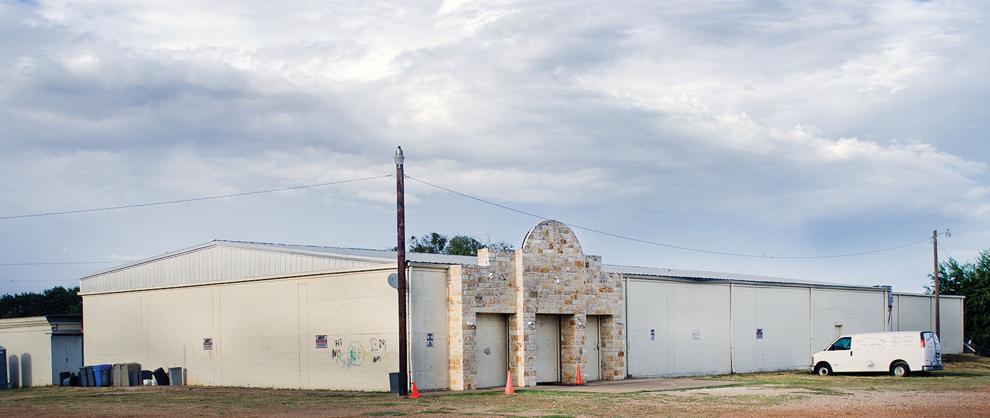 As for what the interior was like, DeLucia said: "Dark. Smelled like cigarettes and beer."
"We didn't have many clubs then," he says. "There weren't a lot of places for people to go. It was three miles north on Tabor Road — I did the commercial at least 500 times, so I've got that burned in my memory."
The venue still stands, just past a rough driveway off of Tabor. A stone, Alamo-esque façade adorns one corner, the rest appears to be a nondescript windowless structure.
On Nov. 24, 1965, it was filled with about 1,000 "foot-stomping enthusiasts" for the Cash concert, according to Shary Brown's story in The Eagle. The crowd was a blend of students and locals sitting on pillows, blankets and chairs.
"… The fans munched potato chips, guzzled beer and milled around at random throughout the show in the finest Elizabethan tradition," Brown wrote.
Cash didn't mention the controversy in detail onstage, Brown wrote, but did dedicate a song to "the man who changed our location." The song was Dirty Old Egg-Sucking Dog, which starts like this: "Well he's not very handsome to look at/Aww, he's shaggy and he eats like a hog/And he's always killing my chickens/That dirty old egg-sucking dog."
"That got a great laugh out of everybody," says Dromgoole.
The show earned a largely positive review from Battalion writer Lani Presswood, who praised The Statler Brothers' "current hit about countin' flowers on the wall and watchin' Captain Kangaroo," and Cash's performance of Ring of Fire, The Orange Blossom Special and It Ain't Me, Babe.
"When the show ended," Presswood wrote, "its uninhibited and well-entertained audience gave Cash a warm ovation — spontaneous, sincere and standing."
Dromgoole was invited to Cash's trailer after the performance. His diagnosis of Cash: "He was higher than a kite."
"His eyes, he just looked like he was pretty high," Dromgoole says. "He was pleasant enough and all. It may be that after a performer has performed a concert, they're kind of high on life, just high on doing the concert. But it seemed like it was more than that to me."
Brown wrote that Cash "appeared to be exhausted" after the show. Cash said that he wasn't upset about the A&M cancellation.
"It doesn't bother me too much, frankly," Cash said in Brown's Eagle story. "I came here tonight because there seemed to be quite a demand for me. I thought the cancellation was pretty ridiculous, but I guess I can defend a principle, too."
DeLucia, who was 14 at the time, says he would have attended the campus concert, but wasn't able to go to the club event.
"But it was so cool that they brought their entire show, and they told people to bring pillows and sit down," he says. "And when you've got Johnny Cash and The Statler Brothers and The Carter Family — I mean, he thumbed his nose at 'em big time, there's no doubt about that, and put us on the map for a while."
About a month later, on Dec. 28, Cash pleaded guilty to the El Paso drug charges. In March 1966, he was given a 30-day suspended sentence, and fined $1,000.
The Associated Press reported that Cash told the judge he realized his mistake: "It was bad, very bad misconduct on my part," he said.
Looking back at the Man in Black
Anne Black, executive director of MSC OPAS, came to A&M in 1984, when Stark was director emeritus of the MSC. One of her favorite memories, she says, is when Stark would stroll into the MSC offices every so often and say, "Who wants to go to the creamery with me?" He'd then lead a caravan of staffers to the campus creamery — which shut down in 1995 — for some afternoon ice cream.
"Part of that was listening to the same stories again and again," Black says with a laugh. Those stories often included Stark's retelling of the Cash controversy.
"It was not a conservative kind of thing," Black says of Stark's influence on the Cash cancellation. "He was not overly conservative. So it was not about the fact that Johnny Cash used drugs. It was about the fact that he might not show up. Or if he showed up, he might be impaired. That was one of the few times I think he said no to the students."
An interesting note about Stark's story, as Black recalls it: He did not include the off-campus concert detail.
As for Cash, the El Paso arrest wasn't his last. That would come two years later in LaFayette, Georgia.
Cash declared in Man in Black that he was clean, and that he had last used pills in January 1969. But that book was published in 1975. His addictions continued well past that.
In 1997's Cash, his second autobiography — always the sign of an eventful life — he detailed some relapses. That included a stretch on painkillers after he was attacked by an ostrich (he had an exotic animal park on his land in Tennessee).
A trip to the Betty Ford Clinic finally put him "on the path of sobriety," he wrote. But, he pointed out, "My problem persists. It's an ongoing struggle."
In music, Cash remained relatively popular in the '70s with his television variety show, and in the '80s with the Highwaymen super group, alongside Willie Nelson, Waylon Jennings and Kris Kristofferson. But Cash experienced a major resurgence in the 1990s, teaming up with producer Rick Rubin on sparse, often-haunting Americana tracks.
A series of albums known as American Recordings brought such new Cash classics as The Man Comes Around, along with well-received covers of Neil Diamond (Solitary Man), Tom Petty (I Won't Back Down) and Soundgarden (Rusty Cage). Cash's ghostly take on the Nine Inch Nails song Hurt, and its dramatic, funeral-like video, was a revelation in 2002.
The Man in Black was hip again, with crowds of all ages:
• He was inducted into the Rock and Roll Hall of Fame in 1992.
• He appeared on U2's 1993 album, Zooropa.
• He was the keynote speaker at the South By Southwest Music Conference in 1994.
• He received Kennedy Center Honors in 1996.
• He appeared on The Simpsons in 1997 (as the voice of the coyote "spirit guide" in Homer Simpson's hot-pepper-induced hallucination).
• He won Grammy Awards in 1994, 1997, 2000, 2002 and 2003.
As Cash's star rose again, Salmon considered bringing him to Aggieland. The Town Hall adviser had heard vague hints about the Cash controversy from A&M staff members. He calls it "borderline mythical."
"Every time I brought up the name Johnny Cash, you could cut the tension with a knife," Salmon says. "It was clear that you could tell there was some significant trepidation. 'You need to think that through,' that type of a thing. I just knew that there had been issues, and there was a story."
(Both Salmon and Black, longtime veterans of campus entertainment, say they had not heard the complete story of the student committee and the off-campus concert until they were interviewed for this story.)
Ultimately, the Town Hall students didn't push for a hard bid to bring Cash to campus, Salmon says, so it didn't become an issue.
But would it have been? If Cash, who died in 2003, was still alive, and touring like other veteran country performers, would it be a problem for the university after all those years?
A 2014 concert might be the best clue. When MSC OPAS brought Nelson to perform at Rudder Auditorium on Nov. 17, there were no complaints about the singer's legendary love of marijuana. Nelson has been arrested multiple times over the years for drug possession, and he adorns some of his merchandise — which was sold right there in the building complex that bears Rudder's name — with marijuana-leaf designs.
"It didn't come up," Black says. "Our oldest, most conservative donors were so excited, they couldn't stand it. I think Willie just has stayed the course. He is who he is, and he was good enough for long enough that everybody has just sort of accepted that. … It's just out there, it's part of his persona and he doesn't care, and now nobody else does either. There were years that they did, but not anymore."
In Cash's later days, he was still recording award-winning music as his health began to deteriorate. By then, he was considered more of a sympathetic grandfatherly figure — granted, the coolest grandfather possible — than a former drug addict and rabble-rouser. In the spirit of "time heals all wounds," it's hard to imagine that anyone at that point would reject him.
"If Johnny Cash were still alive, I feel sure A&M would invite him to perform," Dromgoole says, "and he would come."