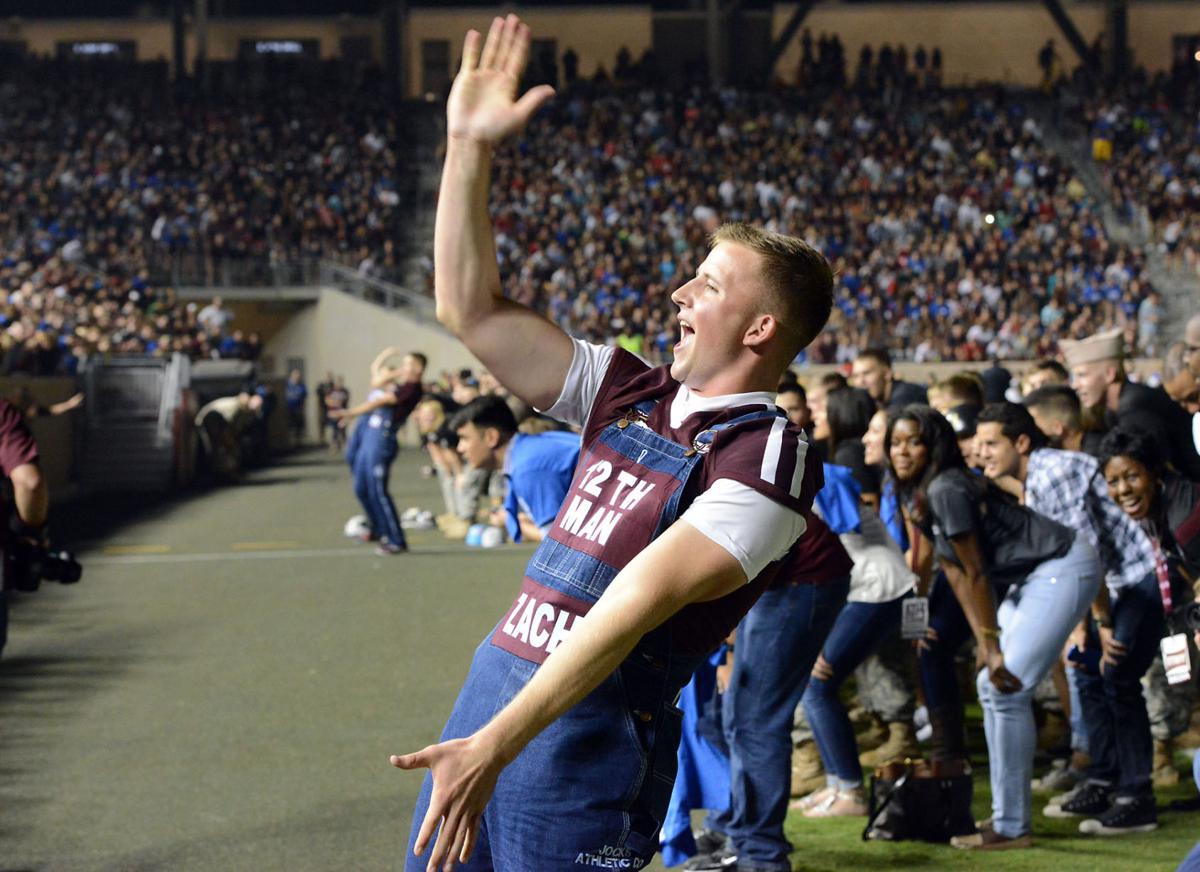 COLLEGE STATION, Texas -- Twenty minutes to midnight, and droves stream into -- not out of -- the stadium. Two minutes past midnight, and everyone from the field to the upper decks suddenly knows it's time to bend slightly and put hands upon knees to state a passage everyone also seems to know. Seventeen minutes past midnight, and there comes one of the better spectacles you'll ever see at any hour, let alone 17 past midnight: tens of thousands interlocking arms and, often, knees, and oscillating back and forth.
Twenty-six minutes past midnight, and everybody files out neatly, occasional clots on the stairwells.
For miles and miles of dark Texas highway on a Friday night, it doesn't seem anybody could be yelling, much less even whispering. Surely nobody could be headed toward anything titled a "Yell." But once into College Station and past the George H.W. Bush Presidential Library, there it is, the 102,773-capacity Kyle Field, lit up, ready for ritual, great big bugs swirling in the night sky near the great lights.
Texas A&M's "Midnight Yell," one of the college football must-sees before dying, upholds a reality about the world: The world contains many worlds, some freighted with distinctions. You might find yourself suddenly in a place in which everyone knows the phrase "saw 'em off" refers to a steer's horns, in particular those of a Texas Longhorn, which represents a team Texas A&M used to play but no longer does, but still loathes adequately.
LIVE on #Periscope: Midnight Yell at Texas A&M before Tennessee https://t.co/Lb9gmRKAhv

— My Aggie Nation (@MyAggieNation) October 8, 2016
One minute past midnight, and various groups stand at the front edge of the football field before maybe 40,000 people fill the lower deck and do a creditable job with the upper. The five guys in the middle with the microphone have nothing to do with hamburgers; they're "Yell Leaders" elected by the nation's second-largest student body -- three seniors, two juniors -- with Texas A&M literature proclaiming it "not uncommon for more than twice as many students to vote for Yell Leader candidates than to vote in the Student Body President elections."
One minute past midnight, and the Head Yell Leader, Chris Wilder, has a microphone and a joke: "How can you tell you're in a five-star hotel in Tennessee? When you call the front desk and say, 'I've got a leak in the sink,' and they said, 'OK, go ahead!'"
By now, you might presume the weekend football visitor might be Tennessee -- in this case, an all-top-10 game between No. 8 Texas A&M (5-0) and No. 9 Tennessee (5-0). It's a weekend big enough to be bigger than usual, plus the fact that Yell Leader Ian Moss will get his first turn at telling a fable to a Kyle Stadium "Midnight Yell" audience.
Moss, 21, a junior, loves Texas A&M just about as much as anybody has ever loved anything, and he's already gathering rare experiences. Like his four Yell Leader brethren, he's a member of the 2,500-strong Corps of Cadets (on a campus going on 60,000-strong), and as a sophomore, he became the one student chosen to care for Reveille IX, the purebred American collie mascot. "Nothing affects an Aggie like Reveille does," he said. The side of his overalls honors her with an applique and a passage reading, "First Lady of Texas A&M."
"Basically, I took care of all her daily events, her schedule, made sure her hair was looking good, made sure her teeth were brushed," Moss said. As their bond grew, his brushing of her teeth (and the canine toothpaste involved) became second nature to her, helping her freshen up to attend, as Moss put it, "anything from sorority events to philanthropies to video segments for the football team," or to meet with donors or prospective students or elementary-school children. If she wants onto your bed, he said, you want onto the floor, "because she outranks us. It's a constant reminder of the commitment the Aggies have to the country, to the university and to each other." He can reel off the origins of the Reveille concept (1931) to the breed of the first Reveille ("fox terrier spitz mutt") to how she got her name (went bonkers one morning during reveille).
In his fable at Midnight Yell, Moss told of an Auburn fan who wished to convert to Alabama fandom to appease a new love, so sought out a Dallas doctor to remove half his brain, only to emerge from surgery saying, "Go Volunteers," whereupon the doctor volunteers that the surgery took the entire brain.
That joke happened at 12:11 a.m.
A chant of "Wrecking Crew! Wrecking Crew!" - honoring the A&M football defense -- went at 12:12.
So did a sudden cannon boom that might have shortened a life span.
Moss can go on in deep detail about "Yell Leader" elections, deploying words such as "rigorous" and "stressful," in addition to "campaign teams," "campaign managers," "platforms" and "intensive interview." "It's not easy if it's about yourself, if that makes sense," he said. "It's about the university, because there's a lot of times when things become inconvenient. Something we always tell each other is, 'You're not a Yell Leader when it's convenient for you, you're a Yell Leader when it's convenient for other people.' And so a lot of times this seems very glamorous and a job that everyone wants to be in the spotlight, when really, there's a lot of stuff that goes on behind the scenes that a lot of people don't know about. We do over 300 events a year. We're doing a lot and sacrificing a lot. And so if you make it about yourself, it's not enjoyable, but if you're able to serve and put this university above yourself, that's what makes it so special."
At 12:02 a.m., a crowd in a football stadium fixed to sing "The Spirit of Aggieland."
"Take off your cap!" somebody hollered to a Tennessee fan in the front row.
"I didn't know, sorry!" he said.
"It's all right!" several said.
"As a week goes on you just build up, and build up, and build up," Moss said, "and then at midnight before the game, less than 12 hours away from kickoff, and to be able to see the 40,000 students come out and do yells, I mean you can't find that anywhere else. And to be able to give a fable in front of them, and be able to conduct the 12th man, and just have that honor and privilege . . ."
The men's and women's basketball teams appeared to make brief announcements about upcoming seasons.
At 12:16 a.m., another song: "The War Hymn," replete with its jabs at "Texas University" (not "the University of Texas") and the "eyes of Texas are upon you." At 12:18 a.m., the Yell Leaders gave best wishes to two youths, one battling a third heart transplant and the other a central-nervous-system condition. At 12:23, another cannon boom, another five minutes off the end of life. At 12:25, another wish to beat the alleged Hades out of Tennessee, plus a reminder that while there's no Texas on the schedule anymore since Texas A&M moved to the Southeastern Conference, at least there's an orange opponent.
"Midnight Yell" doesn't gobble up your night. By 12:30, the stairwells bulge with maroon, throngs exiting a stadium in which there has been no football game yet, but there has been uncommon devotion already.