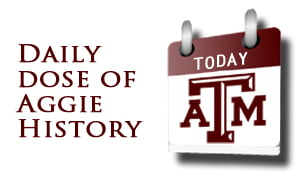 Sept. 30, 2010: Jerrod Johnson set an A&M record for the most completed passes during a game. He completed 40 of his 62 passes against Oklahoma State in Stillwater. The Cowboys won, 38-35.
Johnson finished the game with 409 yards and five touchdowns. He finished the season completing 158 of his 279 pass attempts for 1,947 yards and 14 touchdowns.
Sept. 30, 1933: The bugle rank in the Aggie Band made its debut in New Orleans when Texas A&M played Tulane, according to Fightin' Texas Aggie Band by Don and Mary Jo Powell. The Aggie football team won, 13-6. 
Sept. 30, 1944: Bobby Goff set a Texas A&M record for longest punt, 86 yards. Goff set the record against Texas Tech during a game played in San Antonio. The Aggies won, 27-14.
Goff also played running back during his career at A&M.
Be the first to know
Get local news delivered to your inbox!