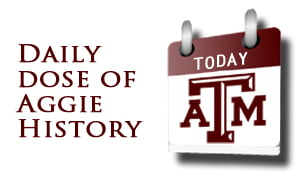 Sept. 28, 1996: Albert Connell set the A&M football record for receptions with 18, in a game against No. 12 Colorado at Kyle Field. The Aggies lost, 24-10.
Sept. 28, 1940: Freshmen threw senior yell leaders "Buster" Keeton and Clarence "Foots" Bland into the Fish Pond for the first time following an A&M victory, according to a September 2011 Battalion article. The Aggies beat Texas A&M-Kingsville, 26-0.
Sept. 28, 1962: An article published in Time magazine criticized Texas A&M for its reluctance to admit women. The article called A&M "Sing-Sing on the Brazos ... the school is a cluster of penal-looking buildings flying the flag of Texas," according to Keepers of the Spirit by John A. Adams Jr.
Sept. 28, 2007: The San Antonio Express-News broke the story that A&M coach Dennis Franchione had been releasing inside information in a private newsletter to boosters, who paid $1,200 per year in subscriber fees.
Franchione resigned at the end of the 2007 season. He later coached at Texas State.