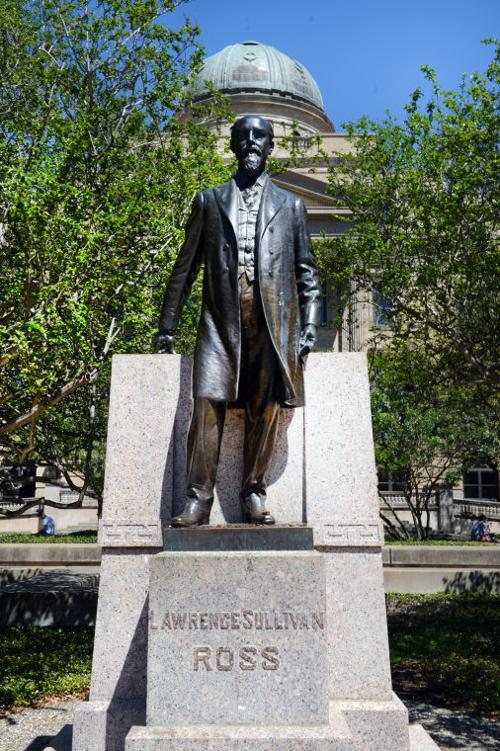 Sept. 27, 1838: Lawrence Sullivan Ross was born. Ross was president of Texas A&M from 1890 until his death in 1898. Before coming to A&M, he was a captain in the Texas Rangers, a Confederate brigadier general, a state senator and governor.
Before Ross took over as president of A&M, the school was at risk of being closed. A&M underwent a period of growth due to Ross' leadership and notoriety, according A Centennial History of Texas A&M by Henry Dethloff. The college received more legislative funding, academics were expanded and several traditions that exist today got their start during the Ross era.
The basis of the Aggie Ring design that exists today was created in 1894, and the first campus Silver Taps was conducted upon Ross' death. Today, the silent ceremony honors students who die while enrolled at A&M.
A bronze statue of Ross, dubbed "Sully," is located in the Academic Plaza in front of the Academic Building. Students place coins at Sully's feet for good luck on exams.
There has been significant controversy over the statue in recent years, with some students protesting about Ross' role in the Confederacy and his time as a Texas Ranger. 
Sept. 27, 1901: Henry Bartell "Pat" Zachry was born. Zachry, class of 1922, founded the successful H.B. Zachry Company. Company construction jobs included buildings, roadways, dams and part of the Alaskan pipeline. Zachry's company also constructed the third decks at Kyle Field in 1979.
Zachry was a member of the Texas A&M Board of Directors from 1955 to 1961. The Zachry Engineering Building on the A&M campus was named for him in 1972.
Sept. 27, 1941: The Texas A&M football team played its season opener against Sam Houston State at Kyle Field. The Aggies won 54-0, and would finish the season 9-2, winning the Southwest Conference. A&M was ranked No. 9 in the nation.
Sept. 27, 1985: Stephen McGee was born. McGee played quarterback for Texas A&M from 2005 to 2008. He took over as starter after Reggie McNeal was injured in 2005. McGee led the Aggies to a 12-7 win over Texas at Darrell K. Royal-Memorial Stadium in 2006.
He was a fourth-round draft pick by the Dallas Cowboys in 2009.
Be the first to know
Get local news delivered to your inbox!