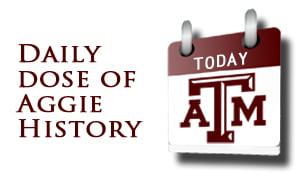 Sept. 17, 1955: The Aggie Band marched in a parade down Main Street at Disneyland in Anaheim, Calif. The band then performed a concert. Disneyland had only been open for two months at the time. After the concert, the cadets got to enjoy the park, courtesy of Walt Disney, according to Fightin' Texas Aggie Band by Don and Mary Jo Powell.
The band had performed a day earlier for Texas A&M's season-opening football game against No. 1 UCLA. The Aggies lost the game, but the band received national recognition for its performance at halftime.
Sept. 17, 1962: The first classes for the Texas Maritime Academy were held at the YMCA Building on the A&M campus. The Texas Maritime Academy was a forerunner to Texas A&M University at Galveston.
Sept. 17, 1971: Congress approved Texas A&M as the fourth sea grant college with the addition of the branch campus in Galveston. The island campus offers courses in marine sciences.