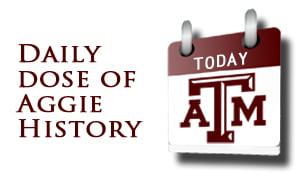 Sept. 16, 1955: The Aggies played the top-ranked UCLA Bruins at Los Angeles Memorial Coliseum. The Aggies lost 21-0, but the Aggie Band and its precision marching style received national recognition for its halftime performance, according to The Fightin' Texas Aggie Band by Donald and Mary Jo Powell.
The performance was covered in Marching Band magazine. The writer described the show as "one of the finest exhibitions of precision maneuvers ever seen on the West Coast, crossing and criss-crossing the field and weaving intricate patterns which were almost unbelievable."
Sept. 16, 1924: Marvin Runyon was born. Runyon graduated from Texas A&M University in 1948 with a degree in industrial engineering. He was a member of the Army Air Corps in 1943 and discharged from military service as a lieutenant in 1945 before coming to Texas A&M to earn his degree.
Runyon worked for Ford Motor Co. for 37 years, first as an assembly line worker and eventually an executive. When he retired from Ford in 1980, he became a chief executive at Nissan, one of the company's first employees in the United States.
In 1988, President Ronald Reagan named him chairman of the Tennessee Valley Authority. Runyon held this position until 1992, when he became postmaster general. He was responsible for bringing the U.S. postal system out of debt with reforms. Runyon eliminated 23,000 management jobs and added more letter carriers and other employees to improve the service. By the end of his six-year tenure, the postal system was earning more than $1 billion in profits.
Sept. 16, 1967: The Aggies played their season opener against Southern Methodist University. SMU won 20-17, but Gene Stallings coached the Aggies to a 6-1 conference record that season, winning the Southwest Conference. It was the first time the Aggies won the title since 1956, when Paul "Bear" Bryant was coaching. Stallings was a member of Bryant's 1956 team.