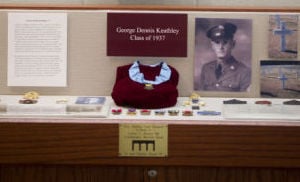 Sept. 14, 1944: Staff Sgt. George Keathley, class of 1937, was killed in action.
Leading up to his death, Keathley was among the 85th Infantry Division in the North Appennies mountains of Italy, according to The 85th Infantry Division in World War II by Paul Schultz. The division was attacking the German line. Keathley's regiment, the 338th, was facing heavy German counterattacks on Mount Altuzzo.
Keathley, a guide for one platoon, took charge of two platoons lacking leadership because their officers had been killed in action. Keathley was mortally wounded by an enemy hand grenade, yet refused to leave the battle and seek shelter.
He continued giving orders until reinforcements arrived, which then prompted the Germans to withdraw. Keathley died shortly after.
Keathley posthumously received the Medal of Honor. "Had it not been for his indomitable courage and incomparable heroism, the remnants of three rifle platoons of Company B might well have been annihilated by the overwhelming enemy attacking force," according to the medal citation.
Keathley's medal is on display at the Sam Houston Sanders Corps of Cadets Center, and there is a dorm on campus named in his honor.
Sept. 14, 1894: Lt. Gen. Andrew Davis Bruce, class of 1916, was born. Bruce was considered an expert on tank warfare. He commanded a successful tank destroyer force that trained at Fort Hood during World War II. Bruce died July 28, 1969.
Sept. 14, 1910: Gen. Bernard A. Schriever, class of 1931, was born. Schriever is credited as the chief architect of the Air Force's early space and missile program by the National Museum of the U.S. Air Force. He was a veteran of World War II and headed the Air Force Missile Division, responsible for developing weaponry and aerospace technology during the Cold War. He died in June 2005. Schriever Air Force Base in Colorado is named for him.
Sept. 14, 1914: George P.F. Jouine, class of 1907, enlisted as a private in the French Army for the duration of World War I. Having been born in France, he enlisted prior to the United States joining the war in 1917. Jouine quickly rose in the ranks, was wounded at least four times and became the most decorated former A&M student of WWI, according to Keepers of the Spirit by John A. Adams Jr. Jouine "commanded one of the first mobile tank units in modern warfare," according to his biography with the Corps of Cadets Center Hall of Honor. He was inducted in 2007.
Jouine's civil engineering library was donated to A&M upon his death in 1958, and the Corps annually designates the cadet unit with the highest grade point average as the "Jouine Unit."
Sept. 14, 1991: Texas A&M running back Greg Hill set a freshman debut record with 212 yards rushing in a 45-7 romp over LSU.
Sept. 14, 2013: In a rematch of A&M's epic 2012 upset of No. 1 Alabama, the Crimson Tide came to Aggieland, as did ESPN College Gameday. It almost turned into another Aggie win, with Johnny Manziel throwing for 464 yards with five scores and Mike Evans with seven catches for 279 yards, including a 95-yard touchdown catch. Alabama quarterback AJ McCarron was 20-of-29 passing for 334 yards with four scores, and T.J. Yeldon added 149 yards rushing with a touchdown for the Crimson Tide, who prevailed, 49-42.