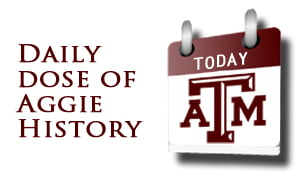 Sept. 13, 1933: A group of women from Bryan filed suit against Texas A&M after being rejected for admittance based on their gender, according to the Brazos Genealogical Association.
For the 1933-1934 academic year, daughters of faculty and staff were allowed to attend classes at Texas A&M. Twelve women who were local residents and had no relative employed by the school applied for admission. When their applications were rejected, seven of the women and their families filed a writ of mandamus, or a court directive, to force A&M president Thomas Walton and the Board of Directors to allow women's admittance, according to A Centennial History of Texas A&M by Henry Dethloff.
The women retained former commandant Charles C. Todd, class of 1897, as their lawyer. The hearing began in Brazos County in October 1933. The court ruled to leave the decision of coeducation at Texas A&M to the discretion of its board.
Sept. 13, 2008: Hurricane Ike reached Galveston Island at 2:10 a.m., flooding more than 80 percent of the island. The Texas A&M branch campus was closed for the remainder of the fall semester while the island's infrastructure was repaired. Nearly 2,000 students, faculty and staff moved to the main A&M campus in College Station, where they resumed classes for the rest of the semester.