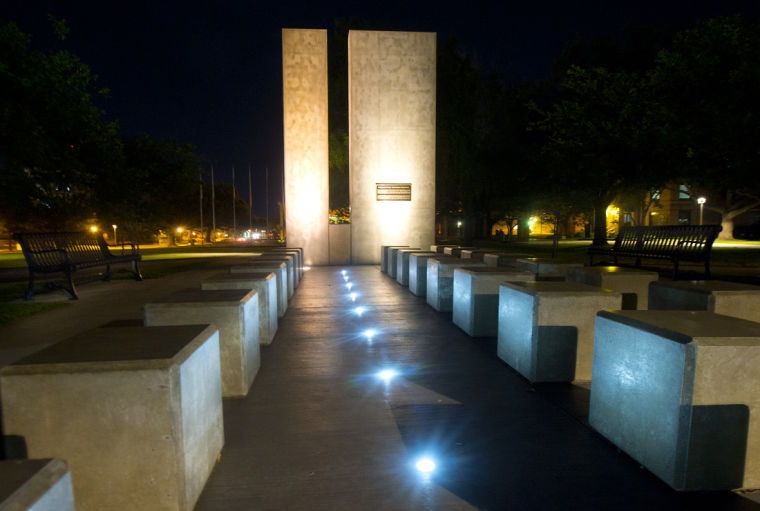 Sept. 11, 2001: Three Aggies died in the terrorist attacks on the World Trade Center and the Pentagon: Lee Adler, class of 1984; Jimmy Nevill Storey, class of 1965; and Lt. Col. Jerry Don Dickerson Jr., class of 1992. Adler and Storey were in the North Tower of the World Trade Center. Dickerson was stationed at the Pentagon.
The Texas A&M campus stayed open on Sept. 11 and professors held class at their discretion. Blood donation stations were set up on campus and across Bryan-College Station.
By evening, Texas Task Force 1 was deployed, leaving from Easterwood Airport and transported to New York by military airlifts. 
The Freedom From Terrorism memorial was dedicated in 2008 as a tribute to all who died during the attacks. It also stands as a reminder of people who continue to protect America's freedom. The memorial is located at the corner of Coke and Lubbock streets, in proximity to the Corps residence halls. The memorial is made of concrete and includes two 22-feet-tall vertical walls and three columns of 12 cubes.
Sept. 11, 1913: Legendary football coach Paul "Bear" Bryant was born. He coached the Aggies from 1954 to 1957, and had a 25-14-2 record. He left to coach the Alabama Crimson Tide.
Bryant was the coach of the famous "Junction Boys" at Texas A&M. He held his first training camp as the Aggie coach in Junction, Texas, where two-thirds of the players quit.
Bryant led the Aggies to a Southwest Conference championship in 1956.
In 1982, Bryant retired from coaching after an 8-4 season with Alabama. He died soon after from heart failure.
Sept. 11, 1955: Former Texas A&M running back George Woodard was born. Woodard played for the Aggies from 1975 to 1979 and had 35 rushing touchdowns during his career.
Woodard was drafted in the 11th round of the 1980 NFL Draft by the New Orleans Saints.