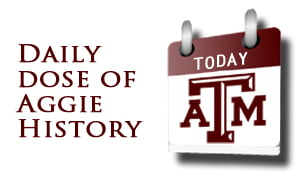 Oct. 7, 1912: Dr. Mavis Kelsey was born. Kelsey, class of 1932, co-founded the Kelsey-Seybold Clinic in 1951, a clinic in Houston with branches in surrounding suburban communities. The Kelsey Reading Room on the second floor of Cushing Memorial Library and Archives is named in honor of Kelsey and his wife, Mary.
After graduating from Texas A&M, Kelsey attended medical school at the University of Texas Medical Branch in Galveston. He served in World War II as a flight surgeon, interned at Bellevue Hospital in New York and worked under a fellowship at the Mayo Clinic in Minnesota. He would later model the clinic system after the Mayo Clinic.
He believed that patients could be better served by physicians pooling their specialties together and facilitating referrals to one another, according to his biography with UTMB. Kelsey-Seybold Clinic also contracts with employers, providing occupational medicine, and has provided medical support for NASA employees at the Johnson Space Center since 1966.
Kelsey was also an author of several books on topics including medicine, art and Texas history. He and his wife also collected art and rare books, which are part of collections at the Museum of Fine Arts in Houston, and Cushing Memorial Library.
Kelsey died Nov. 12, 2013.
Oct. 7, 2017: A&M honored former A&M player and coach Gene Stallings along with his 1967 team with a throwback design in the Kyle Field end zones  for a game against Alabama. The Aggies won the Southwest Conference championship in 1967, and defeated Bear Bryant and the Crimson Tide in the Cotton Bowl to wrap up the 7-4 campaign.