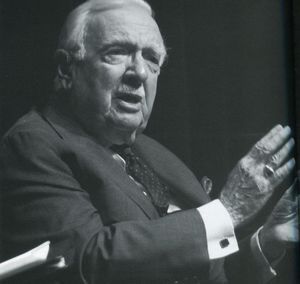 Oct. 27, 2002: CBS Evening News anchorman Walter Cronkite was a guest speaker for the Wiley Lecture Series. Tickets were sold out to the event at Rudder Auditorium. The 50-year journalism veteran advised the crowd to be aware of current events.
"It's our job as journalists and the American public to gather as much information as we can so that our voices can be heard," Cronkite said, according to the 2003 Aggieland yearbook. "It's almost dangerous for us not to know the facts. I remember when [President John F.] Kennedy once said, 'A nation that expects to be ignorant and free is a nation that will never be.'"
Major events Cronkite covered during his career included the first man on the moon, the assassinations of Kennedy and Martin Luther King Jr., the Vietnam War and Watergate. He was awarded the Presidential Medal of Freedom, the highest civilian honor, in 1981. Cronkite died in 2009.