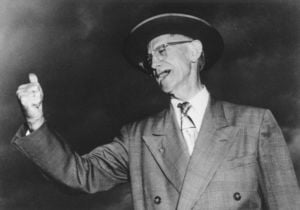 Oct. 25, 1930: The Aggies played the TCU Horned Frogs. During Yell Practice, "Pinky" Downs, class of 1906 and member of the Board of Directors, gave a speech and asked what the Aggies were going to do the Horned Frogs. He replied, "Gig 'em, Aggies!" and made a hand sign of a closed fist and a thumb up. The term comes from hunting frogs or fish using a pronged spear called a "gig." The gesture became A&M's signature hand signal.
Though Downs is often credited with coining the "Gig 'em" phrase, it appears to have been used on campus prior to 1930, including a 1925 pennant celebrating the football team's Southwest Conference championship. It is also featured in the 1922 yearbook, on a page introducing the track team.
Oct. 25, 1844: Hardaway Hunt Dinwiddie was born. Dinwiddie came to Texas A&M in November 1879 as a professor of physics and chemistry. Dinwiddie was elected chairman of the faculty after the office was authorized in July 1883. He held that position until he died in December 1887.
Dinwiddie was influential as chairman in garnering the public's support of the college. He promoted the use of students' study of science and technical training to modernize agriculture.