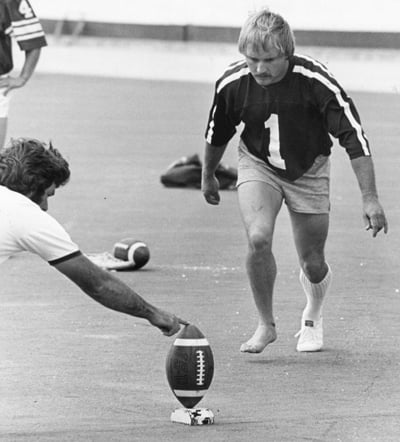 Oct. 16, 1976: Tony Franklin set a Texas A&M record for longest field goal when he kicked a 65-yarder against Baylor. He also kicked a 64-yarder during the same game. The Aggies won, 24-0, and Franklin's two field goals are still the longest in school history. 
Franklin also holds the NCAA record for most field goals of 60 yards or more. He was drafted in the third round (74th overall) of the 1979 NFL Draft by the Philadelphia Eagles. He played 10 seasons in the NFL with the Eagles, New England Patriots and Miami Dolphins.
Oct. 16, 1926: Jelly Woodman set a Texas A&M and Southwest Conference record when he scored seven touchdowns in a 63-0 win over New Mexico. 
Be the first to know
Get local news delivered to your inbox!