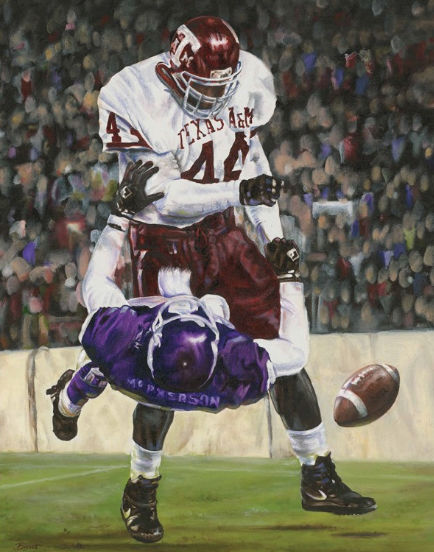 Nov. 7, 1991: A&M linebacker Quentin Coryatt unleashed "The Hit," a monstrous tackle that broke the jaw of TCU receiver Kyle McPherson. The Aggies defeated the Horned Frogs, 44-7. Coryatt was the second player selected in the 1992 NFL Draft.
In October 2016, Coryatt signed prints of a painting commemorating the 25th anniversary of the play, by local artist and former Texas A&M student Tammie Bissett, at Aggieland Outfitters. Proceeds were donated to Schools for Haiti, an organization that provides education and meals to more than 1,000 Haitian children. 
Nov. 7, 1944: R.C. Slocum was born. Slocum was head coach of the A&M football team from 1989 to 2002. He won more games than any other A&M head coach. He went 123-47-2 and won four conference championships.
Nov. 7, 1968: Darren Lewis was born. Lewis was a star A&M running back from 1987 to 1990. He was named an All-American three times and came in ninth in Heisman votes in 1990.  
Nov. 7, 1974: An article in The Eagle announced that cadets in companies B-1 and C-1 found a rusting 3-inch caliber 1902 model howitzer near Easterwood Airport when cutting trees for Bonfire. Commandant Col. Thomas Parsons said the cannon was found in a ravine close to where A&M cadets who were armor officer candidates once trained. He suspected the field piece was discarded from use and left there because it would have been too expensive to move it, according to The Eagle article.