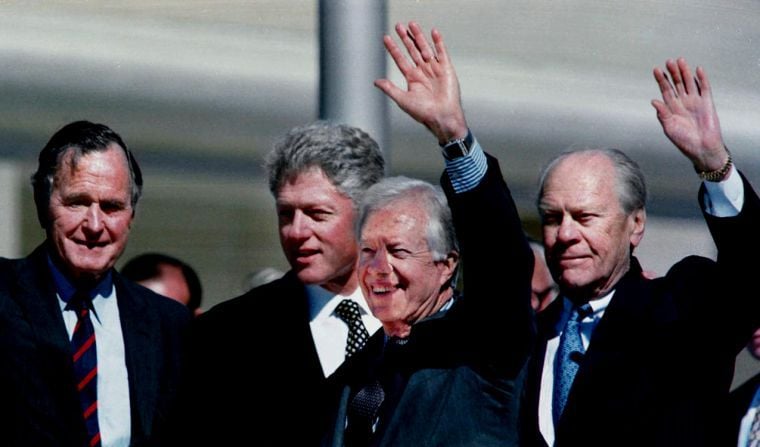 Nov. 6, 1997: The George Bush Presidential Library was dedicated. Then-President Bill Clinton and former presidents Gerald Ford and Jimmy Carter attended the dedication ceremony.
Nancy Reagan attended in her husband's stead. (Ronald Reagan was diagnosed with Alzheimer's three years prior.) Lady Bird Johnson, wife of 37th President Lyndon Baines Johnson, also attended the ceremony.
Other guests included U.S. congressmen and senators, six former foreign heads of government and Hollywood actors. Bush's son Jeb presided as master of ceremonies. George W. Bush, then governor of Texas, gave the first speech about his parents. Rev. Billy Graham gave the invocation.
Read more about the Bush Library's beginnings on our campus history page.
Nov. 6, 1857: The birth date of Judge Kirvin Kade Legett, who is the namesake for Legett Hall, the oldest residence hall on campus. Legett was president of the A&M Board of Directors from 1907 to 1911. He believed the agriculture and mechanical colleges were more in line with the nation's demands than other institutions of higher learning, according to the Texas State Historical Association.
During his term, he wrote a letter to Gov. Samuel Lanham looking for more funding because more students were enrolled than there were beds available in the residence halls. "This is the only institution in the civilized world where a number of its students are forced to live in tents," he wrote, according to Legett Hall's website. Legett Hall was built in 1911.
Nov. 6, 1981: Sophomore Wiley Keith Jopling died in a Bonfire-related accident. Jopling died "from injuries suffered when he was run over by a tractor being driven to the cutting site," according to The Eagle.
Nov. 6, 2009: The Medal of Honor given to Thomas W. Fowler was formally presented to the Sanders Corps of Cadets Center.
Nov. 6, 2010: The Aggies beat No. 8 Oklahoma, 33-19, at Kyle Field. It was A&M's first win over the Sooners since 2002. Ryan Tannehill threw for two touchdowns and Cyrus Gray ran for 122 yards and a touchdown.