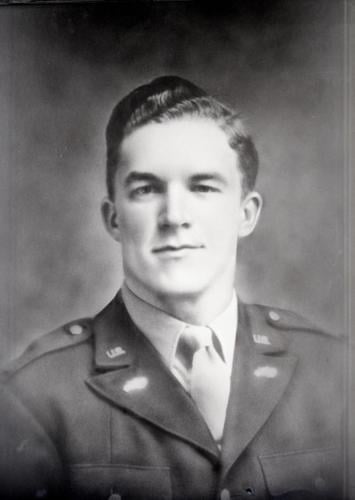 Nov. 4, 1944: 1st Lt. Turney Leonard, class of 1942, led a platoon of tank destroyers during World War II combat in Germany's Hurtgen Forest. He scouted ahead of the tank battalion and reorganized infantry troops while exposing himself to enemy fire. Leonard was wounded early in the battle, but continued to direct artillery fire in destroying six enemy tanks.
A high-explosive shell shattered his arm on Nov. 6, and Leonard was last seen seeking a medical aid station. He was initially reported missing in action.
Leonard received the Medal of Honor for "his superb courage, inspiring leadership, and indomitable fighting spirit," according to the medal citation. His family received his medal in October 1945.
After extensive searches by the Army, Leonard's remains and those of another officer were found in November 1949, in a dugout shelter that had caved in over time. Teams excavated the shelter and Leonard's identity was confirmed. A service was held in Dallas on Memorial Day 1950, and he was buried the next day.
More than 50 years later, Leonard's Aggie Ring was recovered and returned to the family. Leonard's Medal of Honor, Aggie Ring and other items are on permanent display at the Corps of Cadets Center. Corps Dorm 4 was renamed for Leonard in 1969, and he is recognized in the Hall of Honor at the Memorial Student Center.
Nov. 4, 1967: Former Texas A&M third baseman John Byington was born. Byington played for the Aggies from 1986 to 1989. He had two walk-off home runs (a grand slam and a three-run homer) on the same day during a doubleheader against the Texas Longhorns. That was the day when the term "Olsen Magic" was first used by coach Mark Johnson.