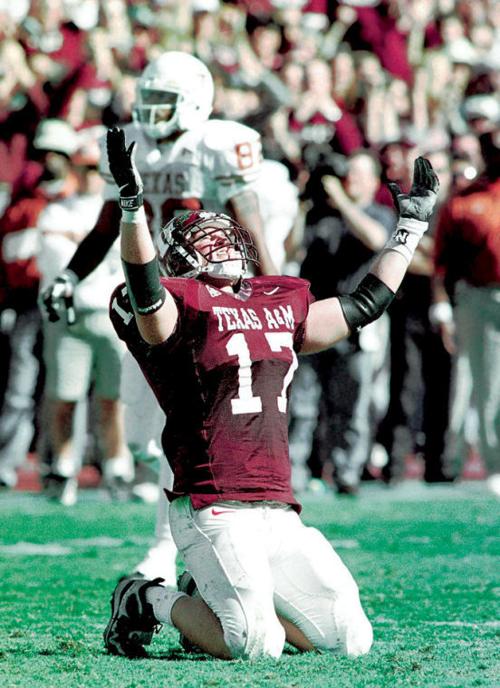 Nov. 26, 1999: Texas A&M defeated No. 7 Texas in an emotional game after the tragic Bonfire collapse on Nov. 18 that killed 12 Aggies and injured 27. A&M won, 20-16, in front of 86,128 people at Kyle Field. Receiver Matt Bumgardner caught the game-winning touchdown pass from Randy McCown in the final minutes. Jay Brooks forced a fumble from Texas quarterback Major Applewhite that Brian Gamble recovered to seal the win.
For more on the game, read our oral history.
Nov. 26, 1953: The Cadet Slouch cartoon first appeared in A&M's student newspaper The Battalion, according to a June 1979 Eagle article.
Nov. 26, 1987: The Aggie football team clinched its third-consecutive conference title and fourth-consecutive win over Texas with a 20-13 victory. The last time the Aggies had three consecutive conference titles was 1939 to 1941.
Nov. 26, 2009: Von Miller recorded 1.5 sacks in a 49-39 loss to Texas. He finished the season with 17 sacks, which led the NCAA and is second in school history behind Jacob Green (20).