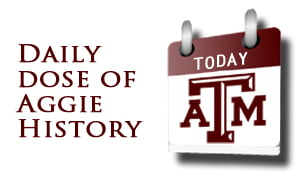 Nov. 22, 1963: Classes were canceled and construction on the Aggie Bonfire was stopped after the news of the assassination of President John F. Kennedy.
By the evening, students had decided to cancel Bonfire and disassemble the stack log by log. It was the first time since 1909 that Bonfire was not lit. A memorial service at G. Rollie White Coliseum was planned for the following Monday (Nov. 25), the same day as Kennedy's state funeral in Washington, D.C., and burial at Arlington National Cemetery.
"Calling off Bonfire is the greatest way Aggies can show their respect for President Kennedy," head yell leader Mike Marlow said, according to The Eagle.
Nov. 22, 1863: Col. Edward Benjamin Cushing was born. Cushing, class of 1880, is the namesake for Cushing Memorial Library and Archives. He worked for the Southern Pacific Railroad from 1880 until 1912 in various roles.
He saved the school from closure while a member of the A&M Board of Directors in 1912 and president of the board the following year, according to Cushing Memorial Library. The school was in debt. Fire destroyed several important buildings, and members of the Texas Legislature wanted to close the campus and consolidate it with the University of Texas in Austin. Cushing used his own funds and credit to keep A&M in operation.
Cushing was commissioned as an officer and sent to France in 1917, where he was awarded the French Croix de Guerre. When he returned, he became a federal bank examiner.
Upon his death in 1924, Cushing bequeathed his collection of engineering books to Texas A&M. It was decided to build a library in his honor. Cushing Library was the first building on the A&M campus constructed as a free-standing library. Books were previously contained in Old Main, and then the Academic Building.
Nov. 22, 1879: John Garland James was appointed as the second A&M president following the firing of the entire original faculty and administration after an investigation by the Board of Directors.
Be the first to know
Get local news delivered to your inbox!