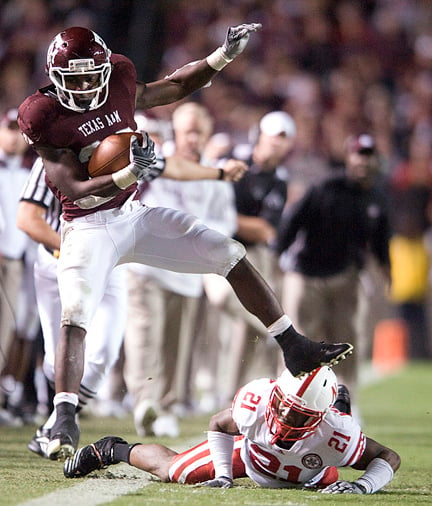 Nov. 20, 2010: The largest crowd at Kyle Field before the stadium renovations — 90,079 — watched the Aggies defeat No. 9 Nebraska, 9-6. Running back Cyrus Gray had 137 yards rushing for his fifth-consecutive 100-yard game. Kicker Randy Bullock made all three of his field goal attempts to account for the only points for the Aggies. 
The win came on the heels of A&M's upset win over Oklahoma on Nov. 6. The Aggies would win their last six games of the regular season, including a victory over Texas, and earn a trip to the Cotton Bowl.
Nov. 20, 1976: Darrell Smith had a 90-yard run against TCU. The Aggies defeated the Horned Frogs, 59-10. A&M had a team total of 518 yards rushing during the game.
Nov. 20, 1993: Texas A&M running back Greg Hill had a 94-yard run against TCU. The Aggies won the game, 59-3.