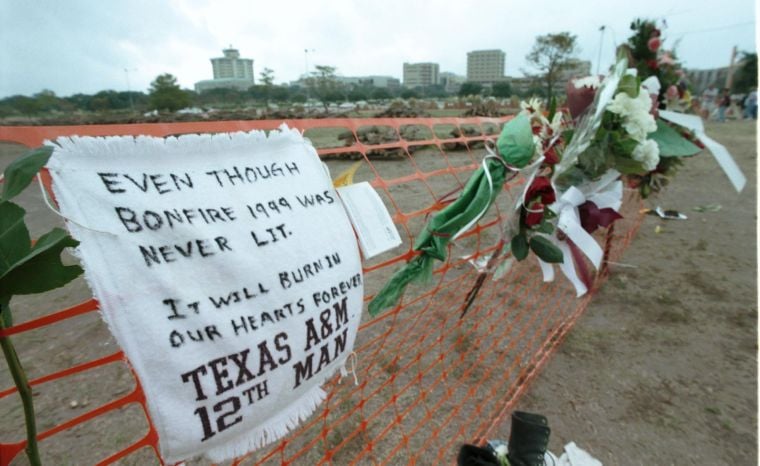 Nov. 18, 1999: Bonfire collapsed at 2:42 a.m., killing 12 Aggies: Christopher David Breen of Austin; Christopher Lee Heard of Houston; Miranda Denise Adams of Santa Fe, Texas; Jerry Don Self of Arlington; Michael Stephen Ebanks of Carrollton; Bryan Allan McClain of San Antonio; Jamie Lynn Hand of Henderson; Lucas John Kimmel of Corpus Christi; Chad Anthony Powell of Keller; Timothy Doran Kerlee Jr. of Bartlett, Tenn.; Nathan Scott West of Bellaire; and Jeremy Richard Frampton of Turlock, Calif.
A memorial stands on campus to remember them.
Go here for more coverage of Bonfire history.
Nov. 18, 2004: A memorial on the site of the Bonfire collapse was dedicated to the 12 Aggies who died.
Nov. 18, 1938: The first city government election was held for the newly incorporated College Station, according to A Centennial History of Texas A&M University by Henry Dethloff.
Nov. 18, 1956: Former Texas A&M kicker Tony Franklin was born. Franklin played for the Aggies from 1975 to 1978. He is best known at A&M for kicking barefoot and his ability to make field goals from long distances. He holds the top three school records for longest field goals: 65, 64 and 62 yards.
Nov. 18, 1989: Former Texas A&M running back Cyrus Gray was born. Gray played for the Aggies from 2008 to 2011. He is fourth in school history with 3,298 career rushing yards.