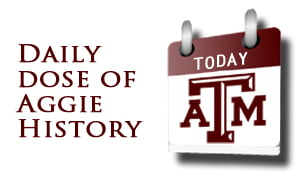 Nov. 15, 1941: Former Texas A&M President William Mobley was born. He was the 20th president of A&M, and served from 1988 to 1993. While in office, he was also the executive deputy chancellor of the Texas A&M University System.
Mobley first came to A&M in 1980 as head of the Department of Management. He was named dean of the College of Business Administration three years later. He directed the department "into one of the most dynamic and expanding business colleges in the U.S. and one with a strong focus on the international business community," according to Texas A&M University: A Pictorial History, 1876 to 1996 by Henry Dethloff.
Mobley left the A&M president post in September 1993 when he was promoted to chancellor of the Texas A&M University System. He resigned in June 1994 and returned to teaching. 
Following his time at A&M, Mobley spent 25 years developing executive talent in the United States and Asia. 
Mobley died March 25, 2020, in Austin after an 18-month battle with cancer. He was 78.
Nov. 15, 1975: Tony Franklin kicked a 59-yard field goal in a game against Rice. The kick was the sixth-longest in school history. The Aggies defeated Rice, 33-14. Franklin had three field goals of more than 60 yards, including 65-yard and 64-yard field goals in the same game against Baylor in 1976. 
Be the first to know
Get local news delivered to your inbox!