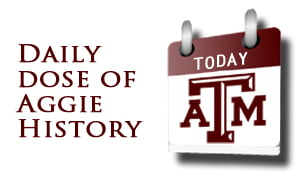 Nov. 13, 1967: Maj. Gen. Bruno A. Hochmuth, class of 1935, was killed in Vietnam. He was the highest-ranking officer killed in action during the Vietnam conflict, according to Texas Aggies Go To War by Henry Dethloff. Hochmuth was commander of the 3rd Marine Division. 
Nov. 13, 2004: The A&M football team defeated Texas Tech, 32-25, in overtime. It was one of three games decided in overtime for the Aggies that season (the team won two of them).
Quarterback Reggie McNeal had 309 yards of total offense and a touchdown for the Aggies. Running back Courtney Lewis had 115 yards rushing, including a 25-yard touchdown run on the first play of overtime.