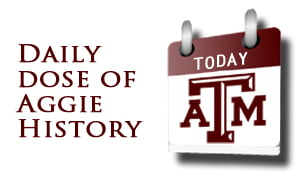 Nov. 12, 1963: Texas A&M cadets stole the University of Texas mascot, Bevo, and took the steer back to College Station.
Five sophomores in Corps unit B-2 drove to the state hog farm where Bevo was kept, about 12 miles northwest of Austin in Williamson County, according to an article in The Eagle. The cadets loaded Bevo onto a stock trailer and drove back to College Station. The cadets drove around the Quad and word spread among the Corps. Bevo was then moved to a farmhouse in Bryan where he would be stored until the Silver Spurs, the group of UT students tasked with Bevo's care and appearances, could come retrieve him.
When the Silver Spurs learned he was missing, they enlisted help from the Texas Rangers.
Texas Ranger O.L. Luther went to the A&M vet school and toured the college farms and other areas in Brazos County where Bevo could have been kept, according to articles in The Eagle. Officials located a rental trailer parked in a lot on the A&M campus that had been used to transport Bevo. While Luther and A&M officials were questioning a group of students, another group moved Bevo to a different location. On Nov. 13, Bevo was found at 11 p.m. at a farm 6 miles south of Bryan and taken to the animal clinic for vets to check him over.
Bevo was unharmed and vets deemed him healthy. After midnight, cheering Aggies watched as the Silver Spurs loaded Bevo onto a trailer and returned to Austin.