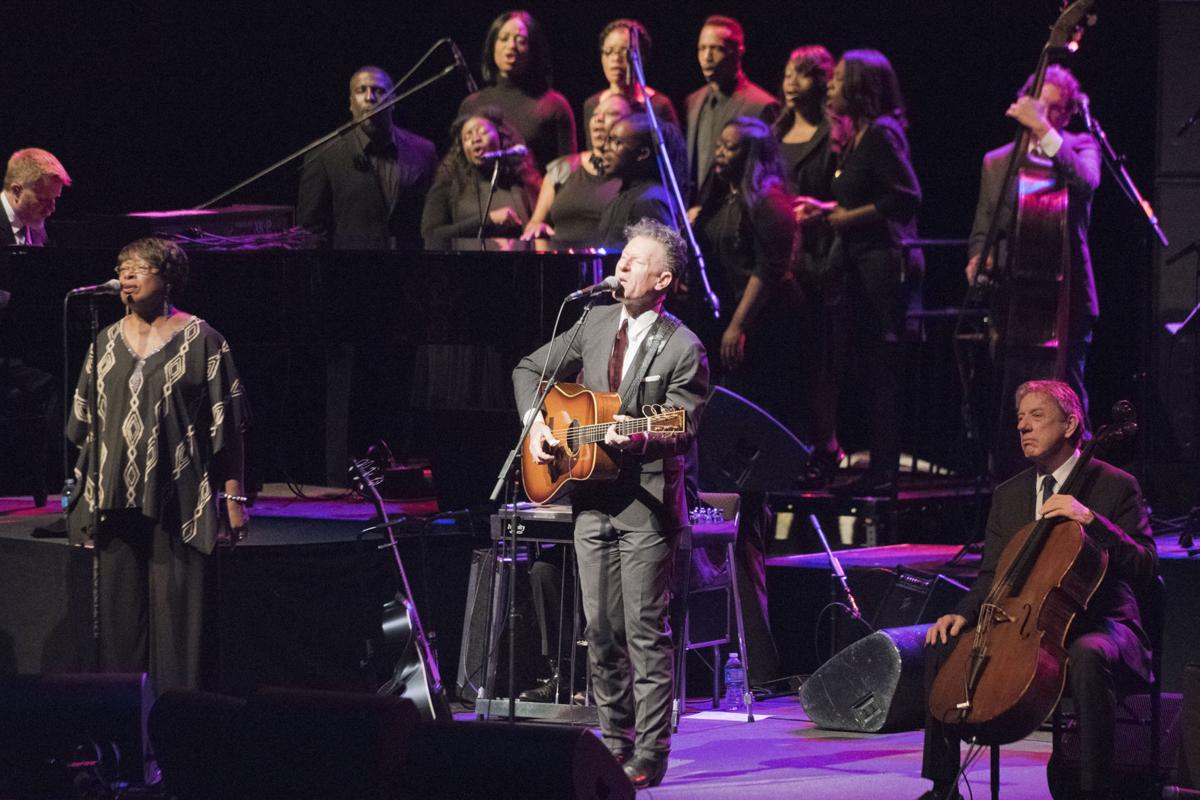 Nov. 1, 1957: Lyle Lovett was born. Lovett, Texas A&M class of 1979, graduated with a degree in journalism. He is a four-time Grammy-winning singer-songwriter and an actor. While attending A&M, Lovett became friends with fellow singer-songwriter Robert Earl Keen, class of 1978. The two wrote The Front Porch Song, a.k.a. This Old Porch. The two performed together at Reed Arena in 2000 for the Bonfire Benefit Concert, in 2013 in a trading-songs format at Rudder Auditorium and at the 2013 First Yell at Kyle Field. They also performed together at the Deep From the Heart benefit for hurricane relief in October 2017 at Reed Arena.
Lovett's Grammy wins: best country album for The Road to Ensenada (1996); best pop vocal collaboration for Funny How Time Slips Away with Al Green (1994); best country performance by a duo or group for Blues for Dixie with Asleep at the Wheel (1994); best country vocal performance, male, for Lyle Lovett and His Large Band (1989).
Lovett was honored in the 2015 class of Distinguished Alumni.
Nov. 1, 1952: Joe Boring set a Texas A&M record with four interceptions during a 31-12 win over Arkansas. Boring was named to the All-Southwest Conference team at the end of the season and finished with 11 career interceptions.
Nov. 1, 1970: Jack K. Williams was appointed as the 17th president of Texas A&M and president of the Texas A&M University System. 
Nov. 1, 1997: Texas A&M defeated Oklahoma State in overtime, 28-25. It was the first game the Aggies played in overtime after it was introduced to college football in 1996. A&M came back from a 22-7 deficit midway through the fourth quarter, scoring a touchdown and tacking on a 2-point conversion in the final seconds of the game to send it to overtime. After forcing Oklahoma State to kick a field goal on the first possession of overtime, D'Andre Hardeman scored from 6 yards out to give the Aggies the victory.
Nov. 1, 2001: Showtime released a made-for TV biopic called They Call Me Sirr, about Texas A&M running back Sirr Parker. He was influential in leading the 1998 team to win the Big 12 Championship. Parker scored the game-winning touchdown in overtime against Kansas State in the championship game.
The movie is about Parker's childhood in Los Angeles, finding success in high school and in college and eventually playing in the NFL.
Nov. 1, 2014: The football team wore throwback uniforms in honor of the 1939 national championship team. The helmet, produced by Riddell and Hydro Graphics Inc., was described as "dark maroon with a hydro film leather-like texture featuring wing and cross graphics created using high-resolution photographs of an actual helmet worn by the 1939 team." The maroon TECHFIT jerseys had a commemorative patch on the chest inspired by the original 1939 uniform.
Be the first to know
Get local news delivered to your inbox!