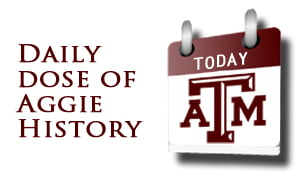 May 20, 1990: Randy Barnes, class of 1989, set the world record for shot-put distance during a meet at UCLA.
Barnes won the gold medal in the event at the 1996 Olympics after placing second in the 1988 games.
An All-American at A&M in 1986, Barnes took the Southwest Conference title in 1987 and also won conference discus titles in 1986 and 1987. He still owns the school record in the shot put with a toss of 71-9 1/2, third-best all-time by a collegian. In addition to his Olympic successes, Barnes is a five-time USA track and field national champion. His career in the sport ended after two positive tests for performance-enhancing drugs.