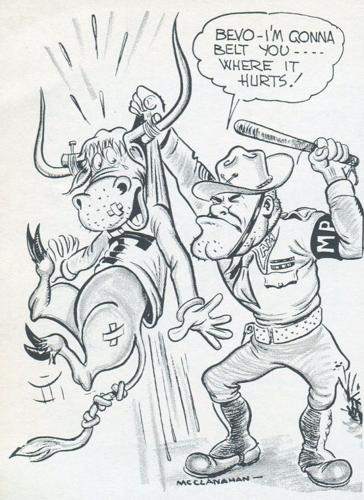 June 7, 1920: Howard Peter "Pete" Tumlinson was born. Tumlinson, class of 1942, created the Ol' Sarge character for a comic strip in The Battalion student newspaper. After graduating, Tumlinson went on to become a comic book artist published by Timely Comics and Atlas Comics. The companies would eventually become Marvel Comics.
Tumlinson covered several genres in the 1940s and '50s, including outlaw Westerns, horror, war and biblical. During the mid-1950s, he shifted to book illustrations. He died in Caldwell in 2008.
June 7, 1898: The Board of Directors appointed Lafayette Lumpkin Foster as president of A&M College, going into effect on July 1. Foster served in the post until his death on Dec. 2, 1901, in Dallas.
Prior to his presidential position, Foster served as a member of the state Legislature and as state commissioner of agriculture.
Foster was buried on campus; his remains were later moved to a site west of the Southern Pacific tracks, according to Cushing Memorial Library records.