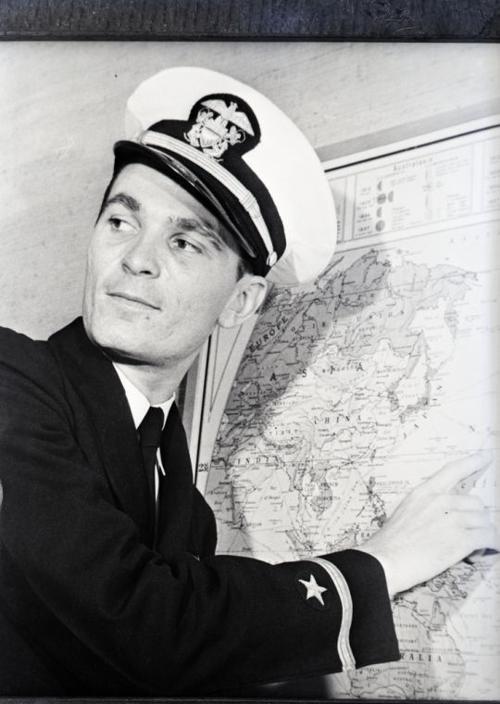 June 4, 1942: Ensign George Gay, class of 1938, was the sole survivor of his torpedo squadron during the Battle of Midway. After being shot down, he spent more than 30 hours floating in the Pacific Ocean, hiding under a seat cushion, to avoid being seen by Japanese planes.
Gay recounted the tale during interviews after the war, one of which is on record with the U.S. Naval Library:
"I dropped the torpedo and was fortunate enough to get away from the anti-aircraft fire although everything was shooting at me. I flew right down the gun barrel on one of these big pom poms up forward. I think it must have been about 20 mm [anti-aircraft guns] stuff. I looked in the sights and tried to get a shot at that fellow but my gun was jammed by then and I figured the only way that I could evade all that anti-aircraft fire was not to throw my belly up in a turn away from the ship, but was just to go right straight to her and offer as small a target as I could."
Gay was one of the many Aggies who joined the fight in World War II and left their mark on the battlefield and in the history books.
June 4, 1920: The National Defense Act was passed to amend the ROTC Act of 1916. After World War I, military instruction at colleges like Texas A&M was expanded to "special areas or 'branches'" to "broaden the scope of officer training."