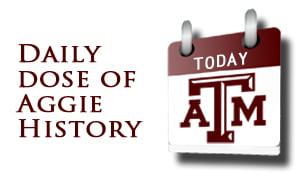 June 19, 1983: The first wake-up call of Space Shuttle mission STS-7 was a medley of the Aggie War Hymn and the University of Texas fight song. Mission Commander Bob Crippen was a UT grad and Gerald Griffin, Johnson Space Center director, an Aggie.
Griffin was part of the team that helped bring Apollo 13 back to Earth safely.
June 19, 1975: Brandon Mitchell, former A&M defensive end, was born in Abbeville, Louisiana. Mitchell was drafted in the second round by the New England Patriots in 1997. He started in Super Bowl XXXVI, helping the Patriots secure a victory against the St. Louis Rams in 2002.
He played eight seasons in the NFL, including his final three years with Seattle, before retiring in 2004.
June 19, 1911: Mike Balenti, the first Aggie in Major League Baseball, made his professional debut for the Cincinnati Reds. According to the Baseball Almanac, Balenti played two seasons, switching to the St. Louis Browns in 1913.