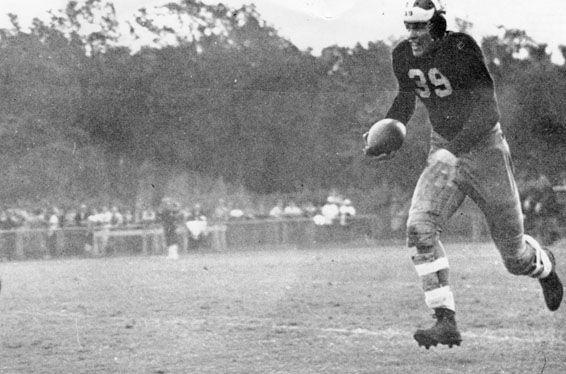 June 14, 1918: John Kimbrough, class of 1941, was born in Haskell.
Kimbrough starred on the Aggies' 1939 national championship team, scoring two touchdowns in A&M's 14-13 victory against Tulane. He was a consensus All-American selection in 1939 and 1940, and came in second in Heisman Trophy voting in 1940.
After being selected second overall by the Chicago Cardinals in the 1941 NFL draft, Kimbrough went on to play three seasons for the Los Angeles Dons of the All-American Football Conference. As a rookie, he led the league in rushing touchdowns with six.
When his playing days were over, he turned his sights to Hollywood. He starred in two films, Sundown Jim and Lonestar Ranger, both released in 1942.
Afterward, he served in the Army during World War II. He served one term in the state legislature (1953-55) before becoming a rancher in Haskell.
Kimbrough died May 8, 2006, in his hometown, from complications from pneumonia.
June 14, 2006: The Aggie War Hymn was played as a morning wake-up call for astronauts in space, for Texas A&M graduate and mission specialist Mike Fossum.