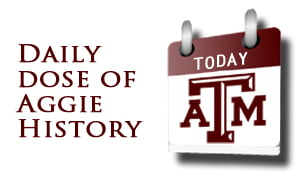 June 1, 1994: Ray Bowen, class of 1958, was appointed as the 20th Texas A&M president. During his tenure, he launched the Vision 2020 plan to put Texas A&M on the path to attaining "top 10" status as a public university.
Bowen also led the university through its most tragic event, the Bonfire collapse in 1999. Bowen explored replacing the 90-year tradition with a drastically different one with increased supervision and a professionally engineered design. On Feb. 4, 2002, Bowen announced that Bonfire officially would not return to campus.
Bowen served as president until July 31, 2002, when he resigned and returned to teaching mechanical engineering.
In 2013, Bowen was honored with a Distinguished Alumnus Award.
June 1, 1875: Gov. Richard Coke led the Board of Directors for its first meeting. The Agricultural & Mechanical College of Texas wouldn't open for another year and four months — Oct. 4, 1876.
Coke issued his first orders of business during the meeting: find a college president, hire a faculty, set tuition rates and set curriculum guidelines.
The board authorized Coke to offer the presidency to Thomas Sanford Gathright, who remained in the post until Nov. 21, 1879, when the college was reorganized.