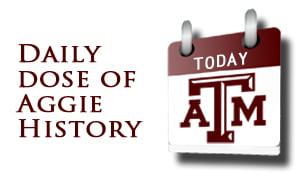 July 18, 1916: Medal of Honor recipient Horace Carswell Jr. was born in Fort Worth.
Carswell was a bomb squadron commander in World War II. On Oct. 26, 1944, he and his crew successfully bombed a Japanese destroyer. Carswell ordered another bombing run about a half hour later. Despite direct hits on two of their three targets, enemy fire hit Carswell and the crew's plane, destroying two engines and the plane's hydraulic system. Carswell ordered most of the crew to bail out, but he stayed on board. He hoped to reach a base or make an emergency landing, but the bomber crashed in a mountainside. He was killed along with two crew members.
On Feb. 27, 1946, Carswell was posthumously presented his Medal of Honor by Maj. Gen. Albert Hegenberger in a ceremony at Goodfellow Field in San Angelo.
July 18, 1903: Brig. Gen. William Lecel Lee, class of 1927, was born.
He served under Gen. Douglas MacArthur and Gen. Dwight Eisenhower in the Philippines between 1935 and 1938. Lee was in charge of training and building a regional air defense, according to Texas Aggies Go To War by Henry Dethloff. That earned him the nickname "Father of the Philippine Air Force." He also taught Eisenhower how to fly.
July 18, 1963: Martin Torrijos, class of 1987, was born.
Torrijos was the Panamanian deputy minister for the interior and justice from 1994 to 1999. Later, he was elected president of the Republic of Panama and served from 2004 to 2009. In 2006, he delivered the spring commencement speech at Texas A&M.