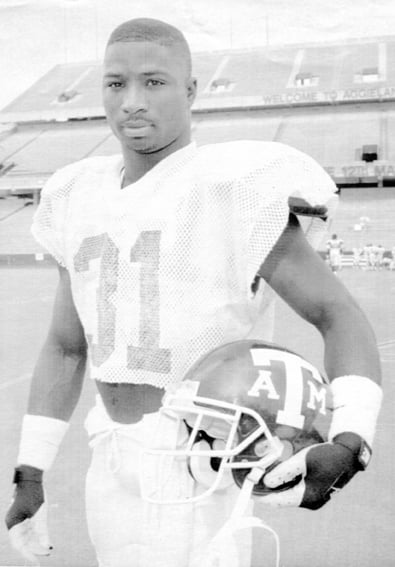 July 16, 1972: Former Texas A&M cornerback Aaron Glenn was born in Humble.
After starting his collegiate career at Navarro College, Glenn played two years for the Aggies. He was a Southwest Conference first team selection in each of his seasons with A&M, earning consensus first-team All-America status as a senior.
Glenn was drafted 12th overall by the New York Jets in the 1994 NFL draft.
During his 12-year NFL career, Glenn was a three-time Pro Bowl and All-Pro selection. In 205 career games, Glenn picked off 41 passes.
July 16, 1950: Maj. John M. Cook, class of 1939, was born. Cook was the first Aggie killed in action in the Korean War. He died in hand-to-hand combat.
July 16, 1980: The U.S. Olympic Committee and other countries decided to boycott participation in the Moscow games because the Soviet Union invaded Afghanistan. Because of this decision, many Olympians lost their chance to compete, including A&M's Linda Cornelius, a pentathlete who shared her story in the book, Boycott, about the "stolen dreams" of the U.S. Olympians.
Cornelius was the first woman to receive a full academic scholarship at Texas A&M. She was the first woman to be inducted into the Texas A&M Hall of Fame in 1988, also making her the first woman from any Southwest Conference school inducted into a university sports hall of fame. She also is in the Texas A&M University Sports Museum Hall of Legends. 
Cornelius died of cancer June 22, 2021.
July 16, 1984: The bells were hung in Albritton Tower.
The bell tower, dedicated Oct. 6, 1984, is 138 feet tall and located on Old Main Drive at what used to be the West Gate entrance.
The tower contains Westminster chimes and 49 carillon bells. The bells, which weigh 17 tons combined, were made in a 200-year-old French foundry, according to the university news service during the 25th anniversary (2008) of the tower.
The bells and chimes are programmed to sound every quarter hour, then for special events to play the Spirit of Aggieland and hymns during Silver Taps.