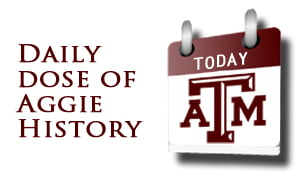 Jan. 7, 1946: Col. Edward Vergne Adams, class of 1929, took over band director duties from Col. Richard Dunn, according to Keepers of the Spirit by John A. Adams Jr. 
Adams increased enrollment and rebuilt the Aggie Band, raising expectations and improving techniques. The halftime performance drills were more intricate and precise than they had ever been. Adams designed the Aggie Band's famed criss-cross maneuver, which debuted in 1947.
To complete the drill, two units march diagonally across the field toward each other. Once marchers meet at a central point, or axis, they make a right angle step.
During Adams' 27-year career as director, the band also made its first national TV appearance and began selling studio recordings of its music. Adams retired in 1973, and the band hall was renamed in his honor. Adams died in 1982.