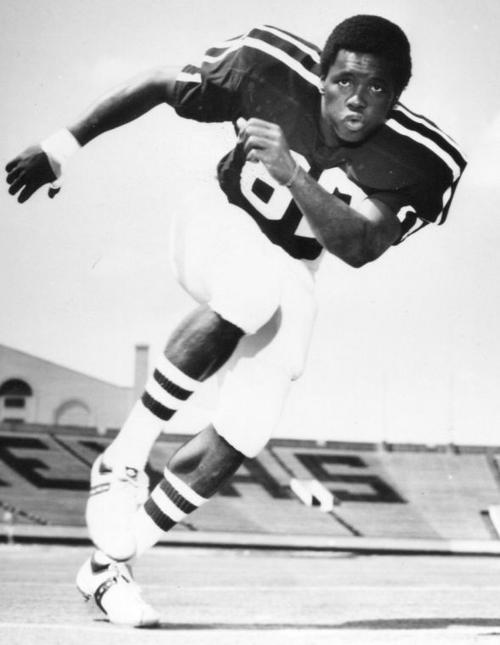 Jan. 22, 1955: Former Texas A&M football player Lester Hayes was born. Hayes played defensive back for the Aggies from 1973 to 1976. Hayes began his career at A&M playing defensive end as a freshman. His sophomore year, he switched between linebacker and safety. His junior and senior seasons, Hayes settled into his role as a safety. In 1975, Hayes helped the Aggies to a Southwest Conference championship and was named an All-American after the season. 
Hayes was drafted in the fifth round (126th overall) in the 1977 NFL draft by the Oakland Raiders. He played all 10 seasons of his career for the Raiders. Hayes was converted into a cornerback as a member of the Raiders' defense, and helped them to Super Bowl victories in 1980 and 1983. He made the Pro Bowl five consecutive seasons from 1980 to 1984 and was named the AP Defensive Player of the Year in 1980.
In 1995, Hayes was inducted into the Texas A&M Athletic Hall of Fame.
Jan. 22, 1947: "The Corps marched en masse in protest to President [Gibb] Gilchrist's campus home across from Sbisa Dining Hall ... [Gilchrist] greeted the marchers on the front porch in his pajamas and bathrobe," according to Keepers of the Spirit by John A. Adams Jr.
Gilchrist had reorganized student administration and discipline by enforcing new guidelines for the Corps of Cadets that discouraged the continuation of hazing, according to the Texas State Historical Association. In the post World War II-era, hazing freshmen hurt the school's retention rate and enrollment, according to Keepers of the Spirit.
Under the new policies, upperclassmen were no longer allowed to order a cadet to provide room service or run errands for them. The cadet officers believed the new guidelines restricted their leadership responsibilities.
"More than 200 cadets removed their brass and rank and submitted their resignations as Corps officers by dropping their insignias at the feet of President Gilchrist," according to Keepers of the Spirit. Gilchrist's reply to each: "I accept with regret."
The protest led to a legislative investigation of the administration. Gilchrist and the administration were cleared of any wrongdoing and the protest "was attributed to students who had disagreed with his policies on hazing and had set out to discredit him, aided by faculty disgruntled over his administrative reforms," according to Texas State Historical Association.
The college's board of directors created the Texas A&M College System in 1948, and made Gilchrist its first chancellor, a position he held until retiring in 1953.