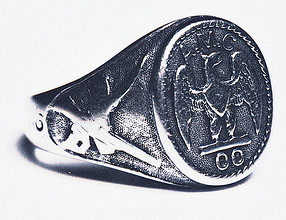 Jan. 15, 1970: J.B. "Josh" Sterns, Class of 1899, presented a collection of Aggie rings from each year from 1899 to 1964 to The Association of Former Students.
"It'll have to be up to someone else to collect the senior class rings from Texas A&M University," he said in regards to when the university changed its name from the Agricultural and Mechanical College of Texas, according to The Association of Former Students.
Sterns was part of a committee in 1899 that made additions and modifications to the 1894 ring design by Edward C. Jonas, Class of 1894. The cannon was added to the side with a crossed musket and saber, the seal of Texas to the other and the crest was made oval with "A.M.C." above the eagle and the class year below.
Sterns had written more than 4,000 letters in three years asking former students to donate their rings for a permanent collection, according to the Association of Former Students. The alumni were allowed to order a replacement ring.
The collection has been expanded and is on display on the second floor of the Clayton Williams Jr. Alumni Center. The rings since 1964 are part of the Memorial Ring Collection and are donated by loved ones of Aggies who have died.