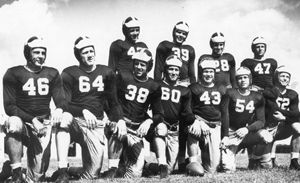 Jan. 1, 1940: A&M defeated Tulane, 14-13, in the Sugar Bowl. The bowl win secured the 1939 national championship for the undefeated Aggies. It was the only national championship in program history, as the team finished No. 1 in the AP Poll. The Aggies were led by running back John Kimbrough, and the defense allowed just 31 total points all season.
Jan. 1, 1902: E. King Gill was born. Gill graduated from Texas A&M in 1924 with a degree in mechanical engineering. He was the original 12th Man when he stood on the sidelines during the 1922 Dixie Classic game. Gill had been on the football team as a backup running back, but left in the middle of the season to focus on basketball. He was working as a spotter in the press box for sportswriters to help record game stats and recognize players on the field during the game in 1922.
By halftime, many of the Aggie players were out due to injuries, so coach Dana X. Bible asked Gill to put on a uniform and stand on the sidelines in case he was needed. The Aggies ended up defeating Centre College, 22-14. Gill was not needed in the game, but the tradition of fans standing during games, ready to go in and help, was born.
Gill played football, basketball and baseball while at A&M. After graduating, he went on to study medicine. A bronze statue of Gill in his football uniform is located in front of Kyle Field today.
Jan. 1, 1968: Aggie Lt. Larry C. Kennemer, class of 1966, appeared on the cover of Newsweek. Kennemer finished his career in the military as a captain in the Special Forces of the U.S. Army. He was the recipient of the Bronze Star with three oak leaf clusters.
Jan. 1, 1968: A&M defeated Alabama, 20-16, in the Cotton Bowl. It was the first matchup between the Aggies and Crimson Tide since the 1942 Cotton Bowl. A&M had won the Southwest Conference title and finished the season 7-4. Alabama coach Paul "Bear" Bryant famously lifted up his protege, A&M coach Gene Stallings, after the game.
Jan. 1, 1988: The No. 13 Aggies defeated No. 12 Notre Dame 35-10 at the Cotton Bowl. Freshman Bucky Richardson earned MVP honors after rushing for 96 yards and two touchdowns.