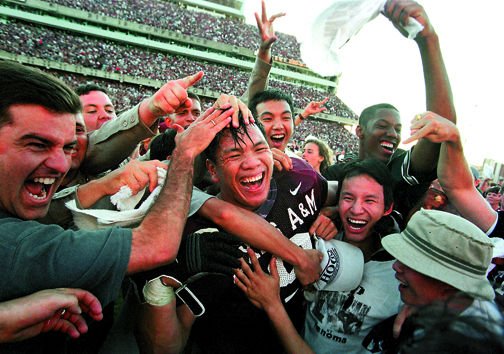 Sept. 25, 1975: Dat Nguyen, class of 1998, was born. Nguyen was a first-team All-American linebacker and led A&M to its only Big 12 title. He holds the A&M record for career tackles with 517. Among his numerous honors, he is the only Aggie to win both the Lombardi and Bednarik awards. He was the first player of Vietnamese descent in A&M history, and in the National Football League. Nguyen played seven seasons in the NFL, all with the Dallas Cowboys, retiring in 2005. 
Sept. 25, 1943: Robert Gates was born. He was the 22nd president of Texas A&M. He was director of the Central Intelligence Agency from 1991 to 1993. Gates was then interim dean of the George Bush School of Government and Public Service from 1999 to 2001, before becoming A&M president in 2002. He left in 2006 to accept the nomination by President George W. Bush as secretary of defense.
Sept. 25, 2011: Texas A&M officials announced the university's departure from the Big 12 to join the Southeastern Conference. The move became effective July 1, 2012.
Be the first to know
Get local news delivered to your inbox!