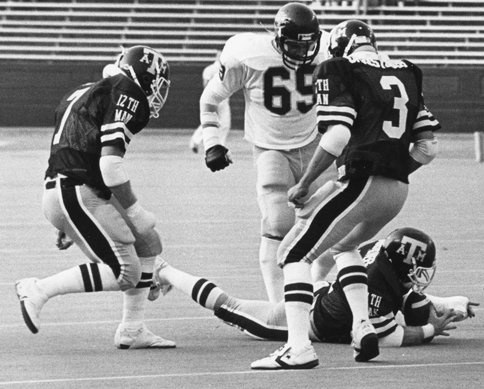 Feb. 21, 1983: Jackie Sherrill and the football staff hosted the first tryouts for the 12th Man Kickoff Team. The squad and A&M's 12th Man tradition were featured in an article in Sports Illustrated.
Feb. 21, 1969: The Board of Directors voted to officially admit women in an "explicit coeducation policy." The meeting was closed-door. While 1963 is credited as the first year enrollment was open to women, the board's decision had included a clause that admittance was at the discretion of the A&M president, who at the time was Gen. James Earl Rudder, according to Rudder: From Leader to Legend by Thomas Hatfield. 
The 1969 decision made coeducation official and did not include contingency clauses.
Feb. 21, 1990: Lyle Lovett, class of 1979, won a Grammy for best country vocal performance for Lyle Lovett & His Large Band.